Protect at least 30% of our lands, waters and ocean by 2030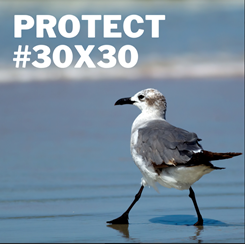 The 30x30 campaign supports the global movement to protect at least 30% of our land, waters and ocean by 2030. With thanks to the Gordon and Betty Moore Foundation, The Ocean Project has made 30x30 an organizational priority since 2019.
Globally, we have incorporated 30x30 into World Ocean Day as the Conservation Action Focus in 2020 and 2021, with plans for further expansion in 2022. Organizers from a wide array of organizations, ranging from schools and clubs to aquariums and zoos, have incorporated 30x30 into their online and in-person events, making good use of the tools and resources we have provided, including, for example, an online petition in 2021. That petition, created in collaboration with the Campaign for Nature, enabled organizations and individuals alike to call on world leaders to support the goal. More than 1,100 organizations from more than 80 countries signed the petition, a critical show of support in advance of international discussions leading up to a meeting of the parties to the Convention on Biological Diversity that will now take place in 2022.
In the U.S., we are coordinating a working group that is identifying and developing tools and resources to help zoos, aquariums and science museums understand 30x30, effectively raise public awareness, document public opinion and inform policymakers about 30x30, all in keeping with the approach to achieving the goal under the "America the Beautiful" initiative. The working group is comprised of Frost Science, National Aquarium, New England Aquarium, Philadelphia Zoo, San Diego Zoo Wildlife Alliance and Seattle Aquarium, as well as advisors from the Association of Zoos & Aquariums (AZA), the Aquarium Conservation Partnership, National Ocean Protection Coalition, and a specialist on issues of diversity, equity and inclusion.  Notably, the efforts of this working group build upon many years of research, as well as the successes and lessons learned of numerous visitor engagement campaigns The Ocean Project has conducted in partnership with zoos, aquariums and science museums. The tools developed in collaboration with the working group will be posted here as they become available and also shared with AZA members via the 30x30 Community of the AZA Network.
In November of 2021, over 180 zoos, aquariums and museums from communities in all 50 states signed a letter expressing support and appreciation for the way the United States plans to pursue the goal of 30x30 as part of the promising "America the Beautiful" initiative. An example of how zoos, aquariums and museums have been successfully incorporating 30x30 messaging into their outreach can be seen in this video by the Philadelphia Zoo.
While these tools are focused on advancing ocean conservation in the U.S., but many can be easily adapted for use by zoos, aquariums and science museums advancing nature conservation efforts around the world.
Background essentials (See also the "Messaging Kit" below)
Tools for raising public awareness
30x30 Messaging Kit - This document includes talking points and responses to tough questions, as well as general messaging guidance, specific suggestions for social media, sample scripts for in-person engagements, and more.
Templates for banners and posters - Designed to help zoos, aquariums and museums raise public awareness, the banner and poster templates enable each organization to insert its own photos, logos, and links while remaining consistent with the overall messaging. For those interested in emphasizing the global movement for 30x30 or linking to efforts under AZA SAFE please note that alternative wording for the banner, poster and postcard templates referenced below can be found here.
Banner Options
For InDesign templates of these banner options, click here.
Poster Options
For InDesign templates of these banner options, click here.
Explainer video - Mystic Aquarium independently produced this short video and has graciously agreed to allow other aquariums, zoos, and museums to show and share it, with a longer sequence at the front where those organizations can add their own logo. Please note that additional videos are now in production and expected to arrive in early 2022!
Tools for documenting public opinion
Templates for Postcards - Postcards have proven to be a simple yet highly effective way to gather visitor input. Please consider asking your audiences to share their views by signing a postcard that your organization, in turn, can collect and share with local or national leaders.
Postcard Options
For InDesign templates of these postcard options, click here. 
New/Mode- We were pleased to share a tool that enabled individuals to show support for 30x30 by submitting comments to national leaders via the New/Mode action alert platform. Big thank you to the Aquarium Conservation Partnership for making this available for zoos, aquariums and museums to use free of charge. This tool allowed interested individuals to share their thoughts as part of a public comment period to obtain input on the use of NOAA's efforts to advance the goals and recommendations in America the Beautiful" and achieve the goal of 30x30, specifically with regards to their work to conserve our ocean, coasts, and Great Lakes.
 Tools for informing policymakers
Sample LTEs - Two templates, one for ocean and one for land focus. These templates can be tailored for your specific audience and emphases.
Sample Op-ed - A template that combines both ocean and land-based conservation for you to tailor to your area and for your audience.
Guidance for Engaging with Policymakers - A short overview with tips on how to engage with policymakers and advance your mission.
 Additional resources 
Coming soon!