Protect 30% of our lands, waters and ocean by 2030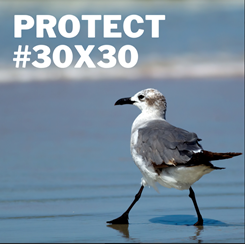 The 30x30 campaign is centered upon a global goal of protecting at least 30% of our land, waters and ocean by 2030. With thanks to the Gordon and Betty Moore Foundation, we have made 30x30 an organizational priority.
Globally, we have incorporated 30x30 into World Ocean Day as the Conservation Action Focus in 2020 and 2021, with plans for further expansion in 2022.  Organizers from a wide array of organizations, ranging from schools and clubs to aquariums and zoos, have incorporated 30x30 into their online and in-person events, making good use of the tools and resources we have provided, including, for example, an online petition in 2021. That petition, created in collaboration with the Campaign for Nature, enabled organizations and individuals alike to call on world leaders to support the goal. More than 1,100 organizations from more than 80 countries signed the petition, a critical show of support in advance of international discussions leading up to a meeting of the parties to the Convention on Biological Diversity that will now take place in 2022.
In the U.S., we are coordinating a working group that is identifying and developing tools and resources that help zoos, aquariums and science museums understand 30x30, effectively raise public awareness, document public opinion and inform policymakers about 30x30, all in keeping with the approach to achieving the goal under the "America the Beautiful" initiative.
The working group is comprised of Frost Science, National Aquarium, New England Aquarium, Philadelphia Zoo, San Diego Zoo Wildlife Alliance and Seattle Aquarium, as well as advisors from the Association of Zoos & Aquariums (AZA), the Aquarium Conservation Partnership, National Ocean Protection Coalition, and a specialist on issues of diversity, equity and inclusion.  Notably, the efforts of this working group build upon many years of research, as well as the successes and lessons learned of numerous visitor engagement campaigns we've conducted in partnership with zoos, aquariums and science museums. The initial set of tools from the working group will be presented in final draft form during the upcoming annual conference of AZA in late September 2021, and will be reposted here as they become available. While these tools are focused on advancing ocean conservation in the U.S., many can be easily adapted for use by zoos, aquariums and science museums working on marine, terrestrial, and/or freshwater conservation efforts around the world.
Background essentials
Tools for raising public awareness
Messaging Kit - Coming soon!
Tools for documenting public opinion
 Tools for informing policymakers
 Additional resources 
Check out some of our webinars related to the 30x30 campaign below: