Youth Leadership for Our Blue Planet
Youth engagement and leadership development is a top priority of The Ocean Project. We focus on supporting and collaborating with youth-led and youth-serving organizations, to create real impact and help grow the overall movement for a more equitable and sustainable society and a healthy blue planet that we all need to survive and thrive, no matter where we live.
Through our collaborative global initiative, which we started to develop in 2009 -- and based on years of comprehensive research that underscores the importance of engaging younger generations in conservation -- we're helping to develop a broad, diverse, active, and united youth constituency for our blue planet.
The Ocean Project supports youth leaders and others in our network of partners to accelerate youth engagement and leadership, with a special focus with the World Oceans Day Youth Advisory Council, our aquarium and zoo partners, and many other  youth leaders and youth-serving organizations worldwide.
Youth make up nearly one-half of the world's population. By supporting youth leadership development, we are supporting the leaders of not only the future, but right now! Youth engagement and advocacy is needed to make conservation and sustainability successful for the long-term. Working with the World Oceans Day Youth Advisory Council and >9,000 young people in our growing global youth network, we are intentionally collaborating with others worldwide to build a youth movement for action, connecting youth and providing them with the platforms and opportunities to advocate, together, including for better corporate and government policies that result in a more equitable and sustainable society and a healthy blue planet.
And we're actively promoting campaigns that young people have chosen to address in interconnected ways: to fight carbon pollution and create a clean energy future; prevent habitat degradation and strongly protect 30% of our lands and ocean by 2030; stop overfishing and create sustainable science-based fisheries; eliminate plastic pollution from the environment and develop systemic solutions to these issues and related issues.
A few of the ways we're doing so are included below and for the most recent updates please visit our news/blog.
World Oceans Day Youth Advisory Council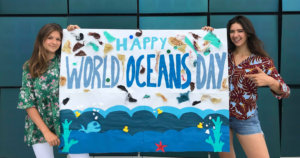 The Council helps grow the reach and impact of World Oceans Day on 8 June and creates opportunities for ocean conservation throughout the year. Council members are instrumental in shaping the future of World Oceans Day and growing its impact in June and ally year, with their fresh ideas and unique perspectives. They gain valuable learning experiences and make connections with other leaders. From developing youth-led projects to actively participating at the table in conferences around the world, Council members put their skills, talents, and networking abilities to use - inspiring both youth to get actively involved and adults to make the right decisions. The Council currently consists of 25 young people representing 22 countries. Click here to get on the email list.
Rise Up! Youth Webinar Series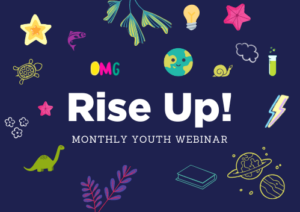 Launched in early 2020, this youth-led monthly webinar series connects young people, including those associated with youth groups, schools, aquariums, zoos, and more with a global online community of change makers focused on protecting our shared blue planet – together!  By youth, for youth, each webinar features a new issue of importance for our shared ocean, and opportunities to get further involved.
Register to watch and watch the latest episodes.
Youth-a-thon
The first-ever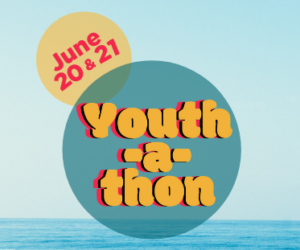 Youth-a-thon was held in June 2020. A 24-hour livestream event, this unique event allowed young people around the world the opportunity to:
1) Learn more about conservation efforts and environmental issues; 2) Connect with a global community of young change makers; 3) Join the movement to take action to protect our shared ocean, climate, and blue planet; and 4) Take action on key issues.

Over the course of 24 hours, there were 24 one-hour sessions with 24 interrelated topics on conservation, art, environmental justice, plastic pollution, creative writing, storytelling, climate change, marine biology, activism, and more, each with a call to action! Throughout the 24 hours, youth were provided opportunities to help with the World Oceans Day 2020 conservation action focus on collaborating with the Campaign for Nature and the push for "30x30" by signing the petition to global leaders to protect at least 30% of our lands and ocean by 2030. You can add your name and sign now!

Register to get updates on the release of all 24 hours and watch the latest episodes here.
Sea Youth Rise Up
Sea Youth Rise Up connects youth from within and beyond our network - supporting them to become ocean champions and providing them with opportunities to connect with policymakers, corporate, and other social leaders. Launched for World Oceans Day 2016 by The Ocean Project, Big Blue & You, and the Youth Ocean Conservation Summit, Sea Youth Rise Up was designed as a platform for young people from all backgrounds to speak for our shared ocean. This campaign provides an opportunity to share the important work of young conservation leaders while inspiring a global audience of youth to understand the important leadership role they play in protecting our blue planet. It also ensures that decision-makers fully recognize the importance of involving youth throughout the process of creating a better future. With World Oceans Day as their rallying point, the Sea Youth Rise Up campaign brings together young ocean conservationists each year from across the United States and a number of other countries. We provide training and support these incredible ocean advocates to share their message with world leaders at the United Nations, the U.S. Congress, the White House, corporate leaders, and with their peers around our blue planet. Click here for more on Sea Youth Rise Up.