The Ocean Project is all about collaborative conservation. We intentionally do not try to brand ourselves but are dedicated to supporting our network of partner organizations to advance action for our ocean. We are a data-driven and solutions-focused organization that punches far above its weight, with a lean but extremely dedicated and effective team, plus great advisors and amazing interns, as well as numerous young leaders and seasoned professionals worldwide who serve on our Advisory Councils.
Baylee Ritter, Youth Coordinator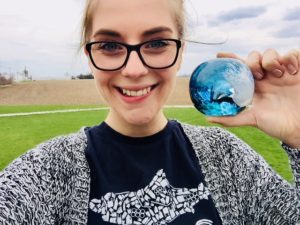 Baylee Ritter is a conservation communicator and environmental educator who believes in the power of community engagement and youth empowerment. She has been part of The Ocean Project team since 2018. As one of the founders of the "Prescription Pill and Drug Disposal Program" (P2D2), she has worked around the world to properly dispose of unwanted or unused prescription medication to prevent it from entering the environment and harming human and animal health. The program is currently in 28 states and 6 countries and has disposed of over 4.5 million pounds of medication. In 2011, she wrote a piece of legislation that has generated over $250,000 to install medication disposal boxes in communities around the U.S. Baylee is also a former member of the World Oceans Day Youth Advisory Council and spoke on the Council's behalf on the harm of single-use plastics at a 2017 United Nations General Assembly special session on the ocean. Baylee is also a former Sea Youth Rise Up delegate and has helped mentor each delegation class since 2016.
Baylee is a recent DePaul graduate and received her B.A. in Public Relations & Advertising and Environmental Communication. Although she is from a farming community in Illinois, she loves (and always encourages others) to find their connection to the ocean!
Gloria Kostadinova, Social Media Manager
Gloria Kostadinova is digitally-savvy science communications professional with a diverse background in strategic communications, public relations and marketing. With over five years of experience advancing mission-driven work and increasing brand visibility, she's worked across sectors, including public, private, and nonprofit, as well as in higher education. As a scientist and storyteller, Gloria aims to bridge the gaps that exist between the scientific and public spheres by translating complex information in relatable and relevant ways. Before joining The Ocean Project team in 2019, she managed communications and development at Clean Ocean Access, a local grassroots nonprofit group. Previously, Gloria worked in Washington, DC at two strategic communications firms, M+R and BerlinRosen, and served as a communications intern at the White House Council on Environmental Quality during the Obama Administration.
Growing up in Rhode Island, Gloria has a deep love and appreciation for the ocean. As the social media manager, she hopes to inspire communities around the world to protect and restore the global ocean and the life it sustains on earth. Gloria holds a Master's in Environmental Science and Management from the University of Rhode Island and a Bachelor's in English and Environmental Studies from Boston College. She sits on the board of directors of ecoRI News, an environmental news group dedicated to reporting on environmental and social justice issues in southern New England.
Jeff Demain, World Oceans Day Manager
Jeff Demain is a business development and marketing strategist who partners with groups and individuals, from nonprofits to corporate leaders, to grow their ideas into thoughtful successes. Starting with a career at Intel in deep technology and advancing to global Business Development and Marketing Director, coupled with successfully starting consulting and photography companies, Jeff understands the importance of relationships, strategies, nimbleness, embracing global cultures, and hard work in achieving success.
Jeff has received awards in both business and technology development, has provided keynotes around the globe, and has been featured in the press. He has also spoken extensively with university students on future trends, conservation challenges, and advancing their careers.
In addition to the business world, Jeff has worked globally with conservationists and researchers to advance their initiatives. He is a nautical enthusiast.
Jeff and his family, including their dog and fish, live in Los Angeles.
Bill Mott, Executive Director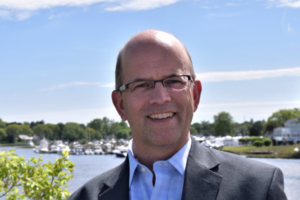 For 30+ years, Bill Mott has focused on building networks and coalitions to promote more collaborative and strategic ways to bring about a better future. Bill has directed The Ocean Project since 1997, growing it from the founding five partner North American organizations into 2,000+ partner organizations in 150 countries. Bill helped launch and lead global efforts, starting in 2002, to coordinate and collaboratively grow the reach and impact of World Oceans Day as a rallying point for the ocean every 8 June, with continued year-round engagement and action.
Bill began his professional career at the Center for Environmental Education (now Ocean Conservancy) in 1988, where he supported marine protected area initiatives nationally and internationally; he coordinated the Coral Reef Coalition, whose efforts led to the establishment of the Florida Keys National Marine Sanctuary in 1990. Following graduate school,  Bill served as director of the recently-created Marine Fish Conservation Network, grew it into a diverse coalition, with more than 100 conservation, scientific, and fishing organizations, and led an innovative national media and grassroots lobbying campaign to reform that led to the first comprehensive conservation overhaul of the United States' principal fisheries law, through the 1996 reauthorization of the Magnuson-Stevens Act. Bill then spent seven years with SeaWeb, where he advocated for sustainable aquaculture and helped with launching the sustainable seafood movement. During that time, he split his time to help develop The Ocean Project and has focused full time on continually evolving The Ocean Project since 2005.
Bill received an M.E.S. from the Yale University School of Forestry and Environmental Studies in 1993 and a B.S. in Natural Resources with a minor in International Agriculture from Cornell University in 1987. Bill lives in Providence, Rhode Island with his wife, Stephanie, two teens, Sophia and Nicholas, dog, Joey, and numerous fish. He is involved with several community education and sustainability efforts.
Douglas Meyer, Strategic Advisor, Communications and Visitor Engagement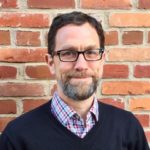 Since 2005, Douglas has played a key role in our strategic communications, including market research analysis and working with our partners to help them integrate and evaluate those insights as applied to their own priorities and programs. As a principal with the consulting firm of Bernuth & Williamson since 2003, Douglas has worked in similar ways with other leading environmental organizations and philanthropic funders, including Defenders of Wildlife, Resources for the Future, Wildlife Conservation Society (WCS), the World Business Council on Sustainable Development, World Resources Institute  and World Wildlife Fund (WWF), as well as the Bill and Melinda Gates Foundation and the Doris Duke Charitable Foundation. Previously he was on staff at The Nature Conservancy, where he focused on international communications and special initiatives, and had worked extensively in film, television and radio production.  Fluent in Spanish and conversant in Portuguese, he graduated Phi Beta Kappa with a bachelor's degree in comparative literature and Spanish from Indiana University, holds a master's degree in international affairs from Georgetown University, and has taught nonprofit marketing at Skidmore College. In spite of being a sad sight as a surfer, he still loves going to the beach with his wife and daughters.
Tom Adams, Strategic Advisor, Policy

As a congressional staffer for former Rep. Dante Fascell (FL), and government affairs professional for National Parks Conservation Association and National Audubon Society, Tom has been involved in dozens of legislative policy campaigns including the Florida Keys National Marine Sanctuary Act, national moratoria on oil and gas drilling on the outer continental shelf, California Desert Protection Act, Presidio Trust Act, the Comprehensive Everglades Restoration Act, and defeat of legislation to create a military base closure-type commission to make recommendations to close units of the National Park System. During his tenure as Director of Federal Government Relations for Chicago Zoological Society he secured more than $5.5 million in federal appropriations and grants for research programs such as its Sarasota Dolphin Research Program, transportation infrastructure needs for Brookfield Zoo, was instrumental in the creation and funding of a NOAA B-WET education program in the Great Lakes, and writing a successful grant to create the Great Lakes Zoo and Aquarium Partnership. Tom is also President at High Ground Strategies. He began working with The Ocean Project as an Advisor in 2014.
Jean-Philippe Amos, Strategic Advisor, Global Partnerships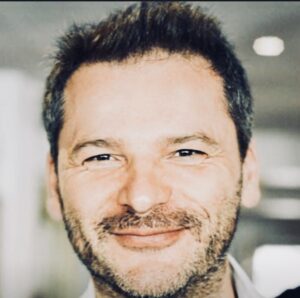 Jean-Philippe Amos, a French national, grew up in France, studied business at University of San Diego, California.
Throughout his career Jean-Philippe has worked in Moscow, Milan, London, Geneva, New York and Paris. He had successful spells at global leaders like The Hearst Corporation, CNN, ESPN and National Geographic working in different roles across marketing, advertising, sponsoring and events. He also ran his own communications agency in Geneva and New York for a few years. A true multicultural entrepreneur and executive speaking five languages, he was recently leading the strategic partnerships team at IMG across Europe, theMiddle East, and Africa.
Father of two, Jean-Philippe, is concerned about the environment and wants to use his personal and professional experience to play an active role in contributing to a cleaner and safer planet for our future generations. Joining the team of The Ocean Project to help grow World Oceans Day was a totally logical and natural decision.
Current Interns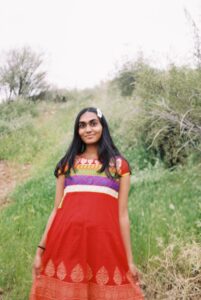 Akhila Bandlora is an 18-year old Freakonomics enthusiast, octopus lover, and above all, a storyteller. The recipient of Bowseat's Gold Award for poetry in 2018, her poetry has been featured in Greenpeace USA, The Ocean Project, Joppa Flats Education Center, among others. Past the page, Akhila works locally and nationally towards environmental justice. At home, she's an organizer with Arizona Youth Climate Coalition. Beyond, she serves on Earth Echo's Youth Leadership Council. Additionally, in 2019, she served as a delegate for Sea Youth Rise Up, an initiative pulling young people from all over the world to Washington D.C.
Akhila believes one of the most accessible ways young people can get involved in their local community and begin discussions is through art. To that end, she is the co-founder and co-president of Creative Youth of Arizona, an organization dedicated to providing opportunities and community to creatively inclined teens in Arizona. Likewise, she co-launched the Phoenix Youth Poet Laureate Program, in which one teen serves as the literary ambassador for the city.
Akhila is so excited to work with The Ocean Project because although she's lived in a landlocked community her whole life, she recognizes the importance of working together collectively and no matter where we all live, to stop our ocean's destruction and create a better future.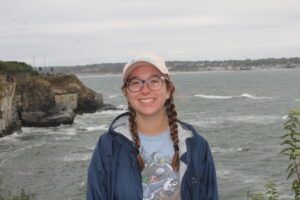 Rebecca Ward-Diorio is sophomore at Brown University, originally from Boiling Springs, Pennsylvania. She is planning to major in Biology, focusing on Ecology and Evolutionary Biology. She is also involved in Witman Lab on campus, an ecologically and marine organism-based lab.
She is excited to have the opportunity to make a difference in the ocean's health, as she has been interested in the ocean since she was a baby, and has cared for its health since before middle school. Becca hopes to continue working to help the ocean in the future, with plans to become a marine biologist after completing her schooling.