Collaboration is in our DNA. The Ocean Project intentionally does not try to brand itself, but is wholly dedicated to supporting our partner network of approximately 2,000 organizations to advance action for our ocean and climate.
We are a data-driven and solutions-focused organization that punches far above its weight. Small by design -- with approximately the equivalent of 3 employees at any one time -- we take a strategic "network of networks" approach so we can be as efficient and effective as possible and scale our impact. Special thanks to amazing young leaders worldwide and seasoned professionals who serve on our Advisory Councils!
Kate Sutter, Community Engagement Manager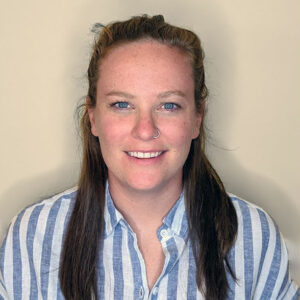 Kate Sutter is a big ocean fan. Kate has been consulting for The Ocean Project on social media and community engagement since March 2021. In addition, she is an Associate Program Officer for LabX at the National Academy of Sciences. She has previously worked at The American Museum of Natural History in Exhibitions, Communications, and Conservation. Her experience there sparked a new inspiration: to create new ways to engage the public with science. Before joining LabX she was at The Ocean Agency where she managed projects alongside the team who produced Google Underwater Street View and the Netflix Documentary, Chasing Coral. She is a member of the Explorers Club and won the Adventure Canada Young Explorer Scholarship which allowed her to study citizen science in the Arctic. An avid scuba dive instructor, she has also been featured on Disney as a 'shipwreck expert.'
Kate has a B.A. from Fordham University, where she focused on Environmental Studies, Urban Studies, and Bioethics.
Samantha Gibb, Senior Program Manager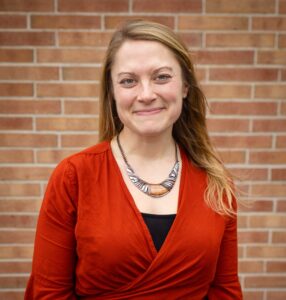 Samantha Gibb consults for The Ocean Project by directing the implementation of the organization's priority programs. She manages the World Ocean Day flagship program, assists in directing the World Ocean Day Youth Advisory Council and Rising Blue youth initiative, develops partnerships, and helps coordinate operations to increase efficiency and effectiveness. Samantha joined the team in January 2022, bringing with her 15 years of community organizing experience working to protect the environment, alleviate poverty, and increase voter participation during elections. While living in California in 2011, she worked with public advocacy and environmental organizations to eliminate single-use plastic bags in the city of Los Angeles, effectively removing 3 billion bags from our ocean, communities, and landfills. After this victory, Samantha went on to manage fundraising and political campaigns to pass single-use plastic bans in Maine, Connecticut, and Massachusetts.
Samantha has a B.A. from Lawrence University where she focused on Psychology and International Relations and spent five months studying abroad in India conducting an Independent Study on urban poverty. In 2019, feeling a pull to do more direct work to protect the ocean and its species, she spent time volunteering with a sea turtle conservation program in Indonesia. She now lives in Philadelphia and, when not working to protect our global ocean, she works locally with The Food Trust directing their Farm to School program to increase access to nutritious food in schools across Pennsylvania.
Douglas Meyer, Strategic Advisor for Public Engagement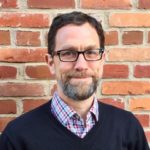 Douglas Meyer has played a key role in our public engagement efforts since 2005, working with our zoo, aquarium and museum partners to help them integrate those insights into their own priorities and programs. He began his work with us by analyzing our public opinion research and providing actionable recommendations. He then led the development and implementation of our Innovative Solutions Grants + Program, which provided with the financial and technical assistance that our partners needed to apply and evaluate those recommendations. Most recently, he has been spearheading our engagement campaigns, further refining effective ways for our partners to engage the public and inform decisionmakers around critical ocean issues, with those efforts earning support and accolades from organizations including UN Environment, Merlin Entertainment, the Packard Foundation's "Heartwired to Love the Ocean," and the Moore Foundation.
Apart from his part-time work with The Ocean Project, Douglas is also a principal with the consulting firm of Bernuth & Williamson, where he focuses on stakeholder and engagement and strategic planning, and has helped a long list of other nonprofit organizations and philanthropic funders, including Defenders of Wildlife, the Wildlife Conservation Society  and World Resources Institute, as well as the Bill and Melinda Gates Foundation, the Climate Resilience Fund and the Doris Duke Charitable Foundation. Previously he was on staff at The Nature Conservancy, where he focused on international communications and special initiatives, and prior to that he worked extensively in film, television and radio production. He also serves on the board of directors of a rare cancer research fund. Douglas holds a bachelor's degree with a double major in comparative literature and Spanish from Indiana University, has a master's degree in international affairs from Georgetown University, and more recently has taught and mentored at Skidmore College. In spite of being a sad sight as a surfer, he still loves going to the beach with his wife and daughters.
Laura Johnson, Youth Program Supervisor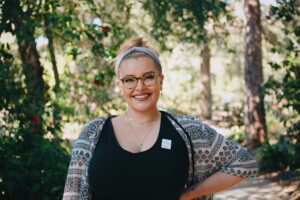 Laura Johnson is a life-long environmental advocate, ocean enthusiast, and social justice activist specializing in mental health & disability awareness, and LGBTQ+ & women's rights issues. Laura began their work as the Youth Representative on the Board of Directors at the nonprofit Big Blue and You, where they eventually also became Youth Programs Manager and Social Media Coordinator. This led to Laura's participation as a student delegate in the inaugural class of Sea Youth Rise Up in 2016, a program to which they returned as a peer mentor in 2018. Laura graduated with their Associate's Degree from Florida Atlantic University, where they worked as a data analyst for the Harbor Branch Dolphin Lab, as an environmental educator at Gumbo Limbo Nature Center, and shortly as an intern at the University of Miami's RSMAS Shark Tagging team. After earning two certificates in Environmental Education & Climate Science Communication from Cornell University, Laura moved from South Florida to Long Beach, California, where they became a certified Climate Reality Leader, and began working as a canvasser for Greenpeace. Once their feet got tired from all that walking, Laura became a marine science educator at the Aquarium of the Pacific. Laura began part-time consulting with The Ocean Project as an assistant coordinator and co-host for Youth-a-thon 2020 and helps coordinate the Youth Advisory Council and related youth initiative activities.
Laura is an avid diver, artist, hiker, photographer, and nature lover, and lives with their partner, two cats, a gecko, eight snakes, and over 150 plants.
Baylee Ritter, Strategic Advisor, Youth Initiative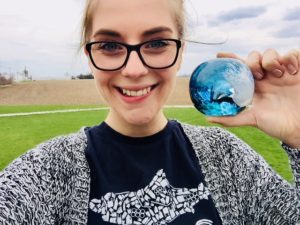 Baylee Ritter is a conservation communicator and environmental educator who believes in the power of community engagement and youth empowerment. She served as a key part of The Ocean Project team for four years and now serves as an advisor on our youth initiative. Baylee is also a former member of the World Ocean Day Youth Advisory Council and spoke on the Council's behalf on the harm of single-use plastics at a 2017 United Nations General Assembly special session on the ocean. In addition, Baylee was a delegate on the first iteration of Sea Youth Rise Up and has helped mentor each delegation class since 2016. Baylee is a DePaul graduate and received her B.A. in Public Relations & Advertising and Environmental Communication. Although she lives in a farming community in Illinois, she loves (and always encourages others) to find their connection to the ocean!
Bill Mott, Director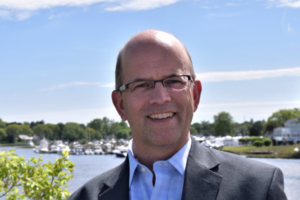 For 30+ years, Bill Mott has focused on building networks and coalitions to promote more collaborative and strategic ways to bring about a better future. Bill has directed The Ocean Project since 1997, growing it from founding five partner North American organizations into 2,000+ partner organizations in 150 countries. Starting in 2002, Bill helped launch and lead global efforts to coordinate and collaboratively grow the reach and impact of World Ocean Day as a rallying point for the ocean every 8 June, with continued year-round engagement and action.
Bill began his professional career at the Center for Environmental Education (now Ocean Conservancy) in 1988, where he grew support for marine protected area designations nationally and internationally, including Monterey Bay, Flower Garden Bank, Stellwagen Bank, Olympic Peninsula, and in the Dominican Republic; he also coordinated the Coral Reef Coalition, whose efforts led to the establishment of the Florida Keys National Marine Sanctuary in 1990. Following graduate school, Bill served as director of the recently-created Marine Fish Conservation Network, grew it into a diverse coalition with more than 100 conservation, scientific, and fishing organizations, and led an innovative national media and grassroots lobbying campaign that led to the first comprehensive conservation overhaul of the United States' principal fisheries law, through the 1996 reauthorization of the Magnuson-Stevens Act. Bill then spent seven years with SeaWeb, where he advocated for sustainable aquaculture and supported the early development of the sustainable seafood movement. During those seven years, he also focused half-time on developing The Ocean Project, and full-time since 2005.
Bill received an M.E.S. from the Yale University School of the Environment in 1993 and a B.S. in Natural Resources with a minor in International Agriculture from Cornell University in 1987. Bill lives in Providence, Rhode Island with his wife, Stephanie, two children, Sophia and Nicholas, faithful hound, Joey, a variety of geckos, and hundreds of composting worms. He is involved with several community and regional education and sustainability efforts.
LinkedIn profile here. Recent interviews online: Green 2.0, Healthy Ocean Coalition and Marine Stewardship Council.
Interns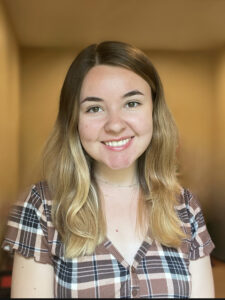 Faith Griffiths is a junior at Brown University, originally from Ashland, Ohio. At Brown, she studies English on the Nonfiction Writing track. She is involved in groups ranging from elementary after-school programming to campus publications.
This summer, Faith is excited to see the ways that writing and outreach can impact advocacy and is thrilled to be working towards raising awareness for environmental causes. Despite growing up hours from the ocean, she has lived most of her life by a lake and has always loved everything about the water. Faith also enjoys reading, writing poetry, exploring museums, and traveling. She is excited to spend the summer both advocating for and visiting the ocean!
Rebecca Wa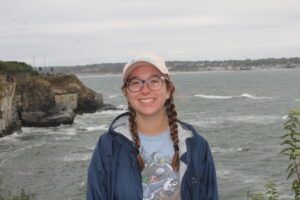 rd-Diorio is a junior at Brown University, originally from Boiling Springs, Pennsylvania. She is planning to major in Biology, focusing on Ecology and Evolutionary Biology. She is also involved in Witman Lab on campus, an ecologically and marine organism-based lab.
Becca is excited to have the opportunity to make a difference in the ocean's health, as she has been interested in the ocean since she was a baby, and has cared for its health since before middle school. She hopes to continue working to help the ocean in the future, with plans to become a marine biologist after completing her schooling.