After almost a year of testing and active recruitment for our study, we've been learning a lot about how to engage visitors on the issue of Saving Energy to Save Wildlife! We have been humbled by our visitor's trust in us and wowed by their willingness to pledge to reduce their household energy use.
Last year, with the generous grant from The Ocean Project, we set out to test whether onsite messaging can affect offsite behavioral change. Using NNOCCI (National Network of Ocean and Climate Change Interpretation) framing methods, we constructed a short activity that invites our visitor to learn about ocean acidification. The message and activity were constructed to engage intergenerational audiences – the children and their adult chaperones. As one interpreter engages with the child through play and pledging, the other interpreter speaks to the adult about ocean acidification and participating in our study to measure their household energy usage. If they are PECO customers, they sign a consent form allowing us to track their energy usage for a year.
While circumstances outside of our control (e.g. finessing legal details, losing our contact person) have stretched out the project for longer than the original 12-months – and we are still waiting on final numbers – we are going to share some thoughts and onsite results if you should consider doing the same project at your institution.
1.    High interest in opportunity to act
As indicated in our last blog, our pledging (to reduce household energy consumption) rate was high, especially after we adapted our approach to foreground the "ask" and add a second staffer so one could engage the younger audience while the other recruited the adults (parents/guardians).  While visitors are easily distracted by the charismatic animals that are all around us, those who remained were very likely to have someone in their group pledge their commitment to taking conservation action at home.  Approximately 3 of every 4 groups who engaged with our staff were willing to pledge!
Moreover, we found that visitors reacted very positively, and were pleased at the opportunity to participate. and few of them balked at the ask, which brings us to the next point…
Our advice to other zoos and aquariums:
If you're worried about asking your visitors to take conservation action, don't. As The Ocean Project and so many other studies have consistently provided clear evidence for, visitors DO NOT consider it a chore that you are asking them to take conservation action.
2.    Zoo visitors are willing to back up their pledge
In addition to pledging to take action, 54.3% of those who were asked to participate in the tracking study responded positively. This was a very pleasant surprise for us as we were not sure how willing zoo visitors would be to let us track their household energy usage. More than half of our visitors were willing to let us study the trend in their energy consumption. While there were some visitors who did ask our researchers for clarification, most of our visitors were ready and willing to participate.
Our advice to other zoos and aquariums:
What has become clear for us as a result of this study (which is consistent with feedback we are receiving from other sources) is that our visitors want to do more. Oblige them. We were terrified that asking people for permission to track their household energy use would be too audacious, but the overall response has been positive. Trust that your visitors are ready to do even more than you suspect.
3.    Biggest barrier to non-participation: different service providers
Of the visitors who were interested in participating for the study, almost half (44.8%) were not eligible because they were not PECO customers. We collected a list of 17 service providers, but 4 primary providers – PSE&G, PPL, DelMarVa, and Atlantic City Electric – serviced almost three-quarters (74.4%) of our other interested (but not eligible) participants.
We have always known that our visitors are diverse and come from the tri-state area, but now we know that they are also diverse in their electricity companies! This does suggest that a study such as this would work really well for an organization that has fewer providers in their market area.
Our advice to other zoos and aquariums:
How many energy providers are there in your region? In the Philadelphia area, there were many providers by choice and by zipcode. To have a higher overall recruitment rate, you might want to consider setting up partnerships with the biggest providers in your region. If we had increased our partnership from 1 to 4, we could have doubled our number of participants. The greatest barrier to participation is not visitor interest but our lack of ability to support their interest.
4.    Intensive project
Throughout the six months, we engaged more than 1500 visitor groups to KidZooU's coral reef tank. Of the 1327 groups with at least one adult that we spoke to, we had the opportunity to ask 641 (48.3%) of them if they were interested in participating project. Of those 641 groups, 348 (54.3%) said they were interested, and 293 (45.7%) were not interested.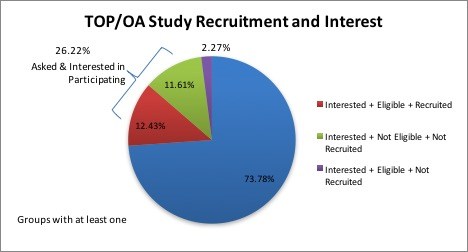 Our advice to other zoos and aquariums:
This situation could be improved by addressing the number of providers you partner with, but there is no denying that this (at least in its current form) is a highly intensive project. But take the lessons that we have learnt and build on it instead of starting from scratch – such a preponderance of evidence already exists that our visitors want to take conservation action, we don't need prove that repeatedly.
If you should take on such a project, make sure to provide adequate support for your staff – it is a highly repetitive and tiring process for them. Have them out for short (1-2 hours) shifts; intersperse their sessions with other projects to provide variety; provide them with tasks that have more immediate positive feedback to keep their energy up.
Conclusion
Despite the intensive and tiring process, we are extremely glad we took on this project. We are glad that The Ocean Project's Innovative Solutions Grants+ provided us with the opportunity to clearly demonstrate that our visitors are ready for bigger asks. Much bigger.
As a result of this study, the Philadelphia Zoo is now examining the opportunities to expand this to other parts of our institution, focusing on scaling and learning how to deepen the impact. This framework and approach will be incorporated into our institutional operations. And now that we know our visitors are ready and willing to do what it takes to make a significant difference for wildlife, we are excited to embark on the next stage of the journey.
Our take home message? Ask early and ask BIG. Don't be shy.