This guest post by Wei Ying Wong of Philadelphia Zoo is a follow up to the previous blog on Philadelphia Zoo's Innovative Solutions Grants+ project. They're exploring a new way of evaluating long-term conservation behavior change, specifically home energy use, in visitors to the zoo's KidZooU exhibit.
We're live!
As a quick addition, we are pleased to announce that we have figured out the logistical and legal details for tracking the efficacy of our onsite messaging in changing offsite behavior, and are  "live" with our collaboration with PECO.
We officially launched the last weekend of January, incorporating all the lessons learned from the previous segments of the study, while adding to the pledge a permission slip that will allow us to collect information about a participating guest's energy use and compare it with similar households (all data will be anonymous - we will not receive any personal or identifying information but we will see if energy use goes down as promised!).
With our revised approach, we changed the order of our script to foreground the "ask." And we added a second researcher so we now have one to engage the younger audience and solicit their fingerprinted pledges to "Save Energy to Save Wildlife", while the other recruits the adults (parents/guardians) to sign the official permission slip for our study.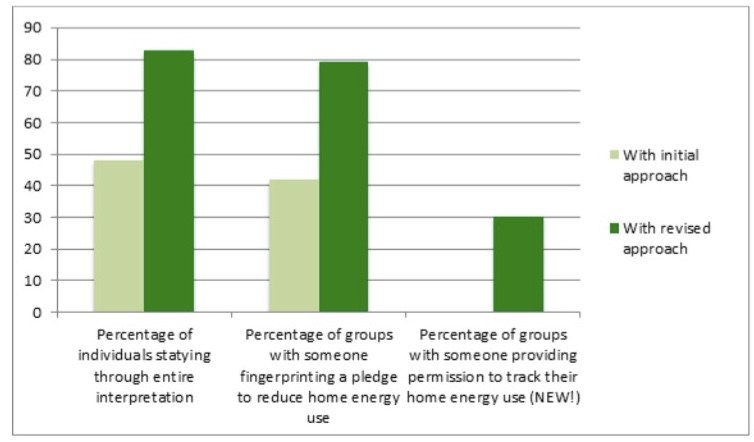 As we are currently in our low season (not helped by some very cold weekends!), our engagement and recruitment activity has been slow. However, both engagement AND recruitment rates have been really promising since we made the changes:
More than two thirds (83%) of our visitors whom we engaged are now staying through the entire interpretation (up from 48%),
More than three quarters (78.6%) of the groups have someone pledge to take action (up from 42%)
And half of the groups who had someone pledge to "Save Energy to Save Wildlife" were willing to sign the permission slip to participate in our study. Unfortunately only half of them lived in PECO service areas and therefore eligible to participate. Nevertheless, that still is a 30% recruitment rate!
We will keep doing more of this for the next few months! For our final report under this grant, we will have good data on how willing our guests are to participate.   But by the end of summer, however, we will be able to tell you even more about whether we managed to make a difference.