In a deeply divided country, here's how advocates can put that to work to protect the ocean for future generations
By Robert Pérez & Amy Simon
"The ocean does something to your spirit," an African-American woman from Charlotte, North Carolina volunteered during a focus group.
"You are stressed out when you are driving. You get close to the ocean, you can smell the air. There is something about that. There is probably something really good about breathing that air in too — not just looking at it."
"It is about the only time that I am at peace, or if I am at church," added a white man from Kansas City.
Our research is showing that Americans from diverse racial and ethnic backgrounds don't just love the ocean — they are heartwired to love the ocean. For them, being at or near the ocean is a powerful, multi-sensory experience that evokes strong memories of their lived experiences with the ocean and equally strong emotional reactions, including a powerful desire to protect the ocean for future generations.
In a country that finds itself deeply divided on many issues, this presents an invaluable opportunity for ocean conservation advocates.
Human Beings Are Heartwired, But Ocean Communications Is Rarely Heartwired.
Much has been written in the last decade about how human brains are hardwired — a set of circuits and connections that govern how people make decisions. Human decision- making is also influenced by how people are heartwired — the mind circuits and connections that tie together their emotions, identity, values, beliefs and lived experiences.
The ways people are heartwired shapes our attitudes and behaviors on the pressing issues of the day. The good news for ocean protection advocates is that not only do Americans deeply love the ocean, they want to make sure policies protect the ocean for future generations.
Here's the challenge: Many advocates and change-makers do not communicate in way that leverages the ways that people are heartwired.
Communicating about ocean conservation can be extremely challenging given that ocean problems and solutions involve complicated scientific processes and policy prescriptions. As a result, ocean communications frequently portray ocean issues as abstract processes, with a passive voice devoid of human actors. In addition, they often fail to elicit a sense of awe or wonder or include emotionally-compelling human stories.
For instance, a common message that ocean advocates might deliver often looks like this:
 Fisheries are collapsing because of overfishing and ocean acidification.
Not exactly the type of message that matches the heartwired lived experiences that people have with the ocean.
To improve ocean communication strategies, we have engaged in a multi-year project that, with generous support from the David and Lucile Packard Foundation, seeks to bring ocean conservation organizations together for both collective learning and collective messaging impact.
In partnership with a working group of 40 ocean conservation advocates and organizations, we are tapping Americans' lived experiences and emotional connections to the ocean in ways that encourage a wider audience to care about and take action to protect the ocean.
Heartwired Messaging: A Freedom to Marry Case Study
A primary example of heartwired messaging can be found in the campaign to win marriage for same-sex couples. This freedom to marry effort, despite having important differences with ocean conservation, offers crucial lessons that we can leverage to communicate more effectively about protecting the ocean.
Consider the dramatic changes in attitudes regarding the freedom to marry for same-sex couples. By the end of 2008, opponents of marriage for same-sex couples had a string of over 30 state victories at the ballot box. Beginning in 2009, Amy Simon and a team of researchers and advocates undertook extensive qualitative and quantitative research to reverse the string of losses, in part by genuinely seeking to understand what was going on inside people's heads as they voted on this issue.
That research allowed us to map the flawed mental template that people held about gay and lesbian people and same-sex relationships. Many in our target audiences thought same-sex relationships were based on sex, unlike heterosexual relationships, which people felt were based on love, family, and commitment. In focus groups, many people asked the question: "Why do gay people want to get married anyway?" While the answer might seem obvious, it wasn't to many in our target audience.
We learned through research that many believed straight people get married for love, but also to start a family and meet their parents' expectations. However, many believed that gay people were disconnected from family – that they came out, moved away, and left their families behind, or that their families rejected them. They didn't think about gay couples starting families of their own. So they saw no compelling reason for them to get married.
With a deeper understanding of the audience mindset, advocates began telling heartwired stories to shift how voters related to gay people and how they thought about the freedom to marry, and to start to disrupt those flawed mental templates.
Winning the Freedom to Marry: A Tale of Two Ads
To see heartwired stories in action, here are two ads:
This first ad, from California in 2008, takes a fact-based approach and features a politician talking about rights and discrimination.
This second ad, from Maine in 2012, illustrates our research-informed heartwired communications framework. This heartwired story — which features Maine grandparents talking about why they want their lesbian granddaughter to be able to get married legally — situates gay people within their families. The grandparents expressed values about love, commitment, and marriage that mirrored values held by our target audience. It enabled identification with a range of messengers in the ad. It connected emotionally through a shared lived experience of eating a family meal together. This ad helped shift people's beliefs in key ways, including shifting their perceptions of gay and lesbian people and answering people's genuine question about why they wanted to marry.
In November 2012, after over 30 ballot box losses, voters in 4 states — Maine, Maryland, Minnesota and Washington — all voted for the freedom to marry. Many believe that culture shift also demonstrated to at least five of the nine Supreme Court justices that public opinion had moved far enough in support of the freedom to marry to issue their landmark decision legalizing equal marriage rights nationwide on June 26, 2015.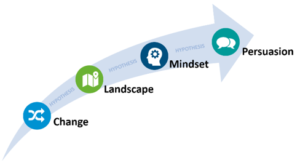 Developing Heartwired Stories for Ocean Conservation
Echoing the freedom to marry research approach, our Ocean Messaging Project began in 2016 by working with our partner ocean organizations to develop change goals, map the landscape of communications on ocean conservation, audit best communications practices and review existing public opinion research, and to understand how ocean conservation issues are discussed in both mainstream and social media.
In 2017, we began the process of mindset mapping and testing persuasion strategies. Mindset mapping uses audience research to understand the complex ways in which human emotions, identity, values, beliefs and lived experiences combine and collide to govern how we relate to and ultimately take action on issues.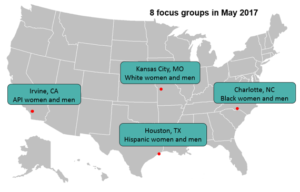 In our initial mindset phase, we conducted in-person focus groups in May 2017 among key populations, including Hispanic, Black, Asian-Pacific Islander, and Anglo American men and women.
These sessions allowed us to capture our participants' unprompted associations with the ocean (especially how they feel about and describe it), and create a library of firsthand personal stories of lived experiences involving the ocean. We also explored how people view the relationship between the coast/beach and the ocean, and how those views impacted their perceptions about ocean problems and solutions. In addition, we had an opportunity to test initial messaging examples and storytelling strategies that prompt a desire to act.
The sessions proved to be extremely rich, and show that Americans from diverse backgrounds care deeply about the ocean.  For them, the ocean is also a deeply cherished place—in ways both aspirational and nostalgic—that provides critical opportunities for creating treasured memories and transmitting family traditions and values. The ocean also brings personal and psychological healing to many, as well as a chance for self-reflection and connecting spiritually to God and/or nature. Many focus group participants – reflecting America at large – were religious, describing their sense of the ocean as "God's beautiful creation" and responding positively to messaging evoking the ocean as such.
In addition, the focus group findings strongly indicate that the beach represents a critical, emotional point of entry to why the larger ocean needs protection. The vast majority of people's lived ocean experiences take place at the beach -experiences that are both vivid and powerful. In addition, people perceive the beach as deeply connected to the larger ocean with an interconnected, interactive relationship.  Many of our participants see the beach as a barometer of ocean health, and vice versa. So they believe an unhealthy ocean will hurt their opportunities for important personal and family experiences—which they deeply value.
These focus groups also provided a crucial platform to develop and test a wide range of persuasion strategies – such as values-based frames, messages, visual recommendations, and messenger and storytelling approaches – which will be further refined in subsequent research phases in 2017 and 2018.
For example, our initial learnings indicate that Marine Protected Areas resonate strongly as a way to protect the ocean for future generations, especially when they are shown to replenish the wider ocean, and are connected to national parks as a way to value protecting something important "out there." Another powerful concept is the "Blue Economy," whose size and importance is surprising for most and prompts desire to protect U.S. jobs and key resources.
Our preliminary heartwired stories about an ocean in trouble were also effective, prompting support for both individual and systemic actions. For example, our story about oyster farmers, scientists, and government officials working to grapple with ocean acidification provided critical examples about how solutions are possible.
If you are an ocean advocate interested in learning more, please contact us to access our password-protect Ocean Messaging website, where you can learn more about the research findings.
To learn more about the heartwired approach, please visit the Packard Foundation website at https://www.packard.org/insights/resource/heartwired/ to download a free copy of our new strategy guide for change-makers called Heartwired: Human Behavior, Strategic Opinion Research and the Audacious Pursuit of Social Change.
Robert Pérez is founder and chief exploration officer at Wonder: Strategies for Good
Amy Simon is a founding partner at Goodwin Simon Strategic Research