This guest post is by Martha Parker, Conservation Impact Manager at The Houston Zoo. The Houston Zoo is committed to saving wildlife through partnerships and the support of global and local conservation projects, while connecting the Houston community to wildlife at the Zoo and inspiring them to action.
To help fulfill our goal of saving wildlife, the Houston Zoo has been addressing the issue of plastic pollution.  We went plastic bag free in July 2015, a decision that helped reinforce our commitment to reducing plastic pollution, a major threat for marine wildlife like sea turtles, which we work diligently to protect. The Houston Zoo receives wild sea turtles who require medical care and rehabilitation support from our partners at NOAA. Some of these turtles arrive at the Houston Zoo because they have ingested plastics or are entangled in marine debris. This makes the connection between the wildlife we work to protect and the threat of marine debris quite clear for us.
The Approach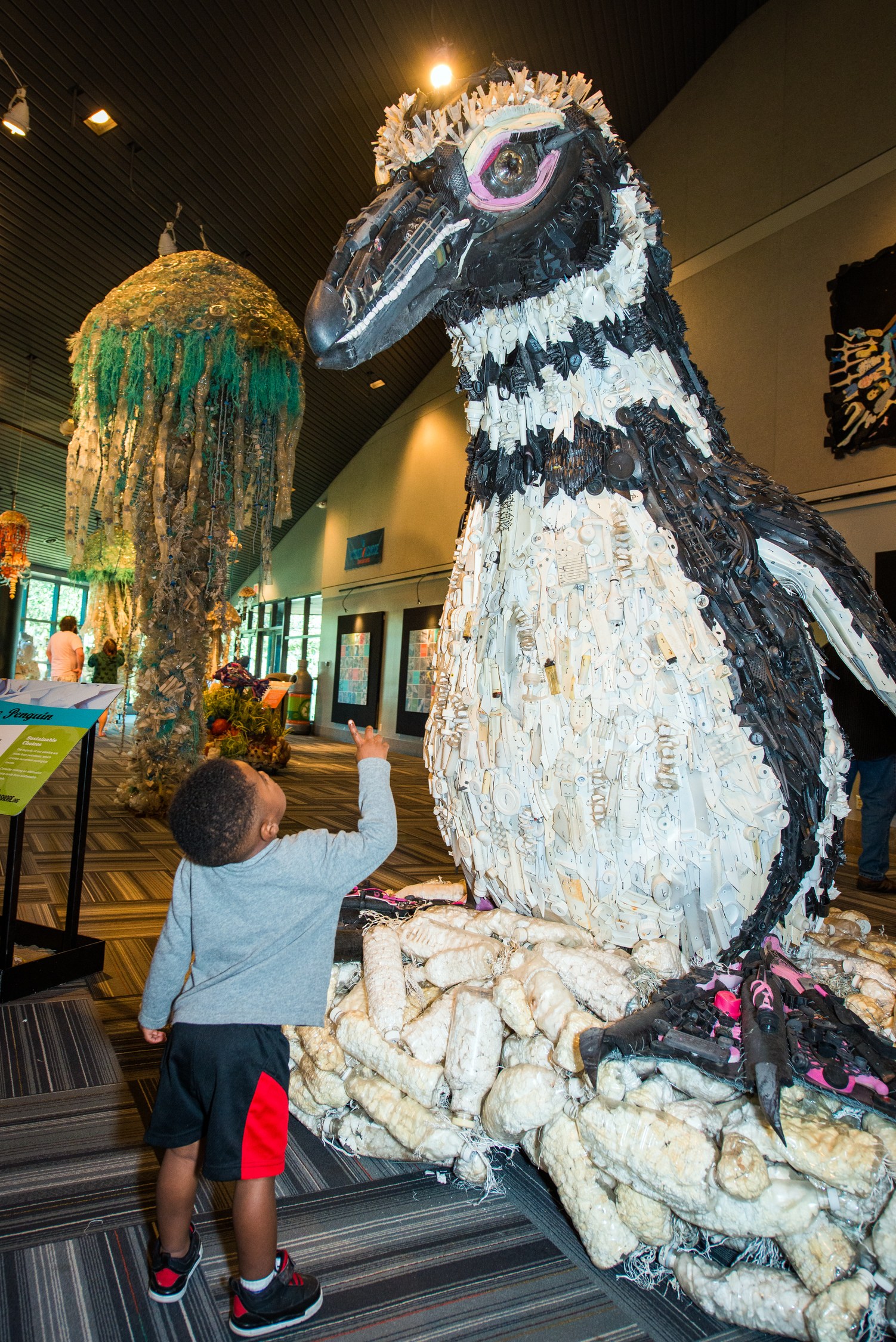 To further our protection efforts of local sea turtles and help connect our community to the threat of marine debris and how they could take action, we welcomed Washed Ashore to the Zoo in January of 2016. Displayed at the Zoo's Brown Education Center, Washed Ashore was the perfect visual representation of a global issue that hits home for Houstonians living so close to the Gulf of Mexico: plastic pollution. This awe-inspiring exhibit brings to life an overwhelming problem and puts it right in front of your eyes, connecting visitors with the animals affected by trash in our oceans.
The Houston Zoo not only wanted to provide a fun experience for their guests, but also wanted to inspire action to save animals in the wild with a very specific ask of going single-use plastic bag free when shopping. After some brainstorming for a fun, interactive guest experience that incorporated data collection, Zoo staff decided the best way to get guests to take a pledge to use reusable bags was to have them add their fingerprint to another artistic display, an underwater-themed mural, designed and painted by famous Houston street artist, Gonzo247.
Before participating, however, guests took a short survey and committed to going plastic bag free for three months. Between January and April 2016, colorful sea turtles, sharks, rays, shore birds, and fish were filled in as 1,482 guests took the pledge and showed their commitment by adding their thumbprint to the mural wall, in the animal they were helping to protect by going plastic bag free. This challenge is important to the Zoo's mission of saving animals in the wild and inspiring behavior change by empowering Houstonians to make a difference. But how do we know if it worked?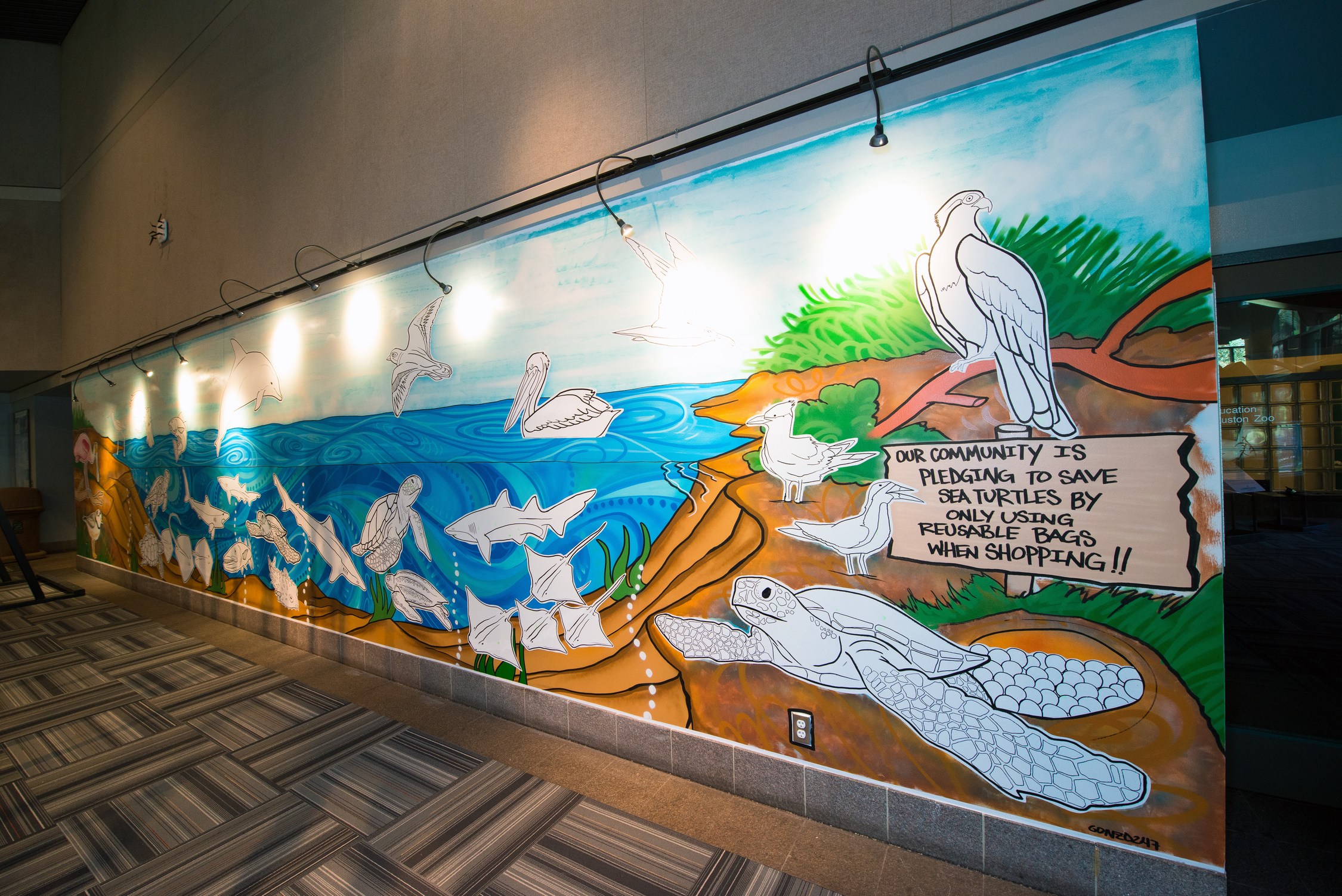 The Results
With our evaluation methods, we aimed to answer the question; do visitors to the Washed Ashore exhibit at the Houston Zoo become inspired to use reusable bags more frequently than those zoo visitors who did not?
We asked visitors from both a control group and an intervention group to take the challenge to go plastic bag free for 3 months to save wildlife like sea turtles. The control group was asked this question at the sea lion exhibit before Washed Ashore opened. The intervention group included those zoo visitors who visited the Washed Ashore exhibit. Three months from the time the visitor signed up to go plastic bag free, the Houston Zoo followed up with them by email to see how they did with the challenge. In total, we had 68 participants in our control group, with only 6% responding to the 3-month follow up. Our intervention group included 1,482 participants, and we had a notably better 16% response rate, with 230 of those responded to the 3-month follow up.
While the better response rate was a good indication of a positive impact from the exhibit, we did not have enough participants in our control group to answer our original research question. We did gather valuable data that we can use to influence future exhibits and messaging. For example, we confirmed that in keeping with research by The Ocean Project and others, our guests are indeed motivated to make changes in their behaviors to protect animals, and their visit to the Zoo was an important aspect of taking action.
Specific to using reusable bags, we know that our messaging should include ways to remember your bags, including tips on keeping them in your car. Finally, it was a great learning experience for the Zoo to evaluate (on a small scale), the impact of our work to save wildlife by empowering our community to take action.   What enabled us to be successful in our effort to connect guests to the issue of marine debris and move them to action was the collaboration across numerous departments of the Zoo, and the strong tie between the exhibit and our efforts to save ocean animals like sea turtles, locally. This project has certainly influenced the way we think and plan for future exhibits and experiences.
Our advice to others…...
Start planning early. Get all relevant departments/people involved so that you choose the correct exhibit for your audience.
Develop an institutional goal. No matter the exhibit content, you should have an institutional goal for that exhibit determined so that planning and evaluations can take that goal into consideration.
Revisit the exhibit/process at regular intervals. Avoid implementing a project and then when finished, evaluating how it went. Bring all stakeholders together frequently to see how the project is going and make changes as you go.
Align messaging/content with what is relevant for your institution, your audience, and the work you do.
Communicate with other organizations who have experience with the content/exhibit-find out what worked for them, what didn't.
Track your success-even seeing what didn't work is critical information to move forward in the future
Additional Data
Responses from both groups in 3-month follow-up included some positive indications that we were helping to increase bag use:
43.35% of respondents used their bags "almost every time they shopped" during the 3-month challenge, compared to 16.31% of respondents used their bags "every time they shopped" during the 3-month challenge, and only 2.58% of respondents "never" used their bags when they shopped during the 3-month challenge
More than 60% of survey respondents put their likelihood of continuing to use reusable bags at "extremely likely"
198 respondents have encouraged family/friends to go plastic bag free as a result of their participation in the challenge, reaching an additional ~1,379 people.
It was important for the Zoo to understand the motivations behind why our guests were successful in the reusable bag challenge. We found that motivations for continuing to use reusable bags during 3-month challenge included the following: Visiting the Zoo increased knowledge of how plastic bags are a problem for wildlife was cited by more than 52% of survey respondents.
     "That exhibit at the zoo really did change things for me. Not just about plastic bags. I have tried to buy less plastic in general - kids dishes and bowls (switched to bamboo), kids toys (wood, fabric, handmade), and I've tried to avoid buying food that comes with a lot of extra packaging. I loved that exhibit because it shocked me to see all of the toys and bottles and things that don't just disappear, thank you for teaching me that I'm contributing even if I think I'm not!"  
     "I have used reusable bags for many years. Mostly at the grocery store. The positive thing in my life about the challenge was not taking bags at other stores such as clothing or craft stores. Taking the challenge actually made me take my reusable bag to the next level, which is to use them everywhere including on trips."
In order to make the Zoo's messaging more effective in the future, we also asked respondents about barriers, which included remembering their bags.  80% of respondents remembered their reusable bags by keeping them in their car. In the future, we can utilize this information to remove barriers for guests when we ask them to switch to reusable bags. (E.g. "If I forgot my bags at home, I would ask for paper, which got reused. If I forgot my bags in the car, I would just ask them not to bag my groceries and then would cart them out and put them in the bags once I got to the car. It really helped me remember to take them out of the car when I had to do this!")
Additional feedback from Houston Zoo participants:
~Great program to encourage less plastic bag use, thank you!
~I have been using only recyclable bags, mostly fabric, for more than 5 years. I was happy to see the bag challenge at the zoo! I hope you have had an excellent response from others.
~I tell the store clerks about our pledge with the zoo and encourage family to think about using reusable bags.
~The bag challenge did not work for me. I chose to reduce my use of disposable plastic bottles instead. I now have a metal water bottle and have encouraged my children to use reusable water bottles also.
~Great program. The education by the zoo raises our awareness to the damage of plastic bags. Continued education and awareness remind us and help us change our ways permanently. Thank you for all of your hard work!
~This was not easy at first! A few times I forgot my bags in the car and had to take a full cart of groceries out to the car and load them in my reusable bags in the parking lot. Ha! But it was worth it, to know that I helped. Thank you for the challenge!
~This survey is a test reminder to get back on track with using reusable bags!
~Going shopping with reusable bags is fun and fashionable. I use them where ever I shop or visit! The zoo bags are the best. I have 3 of them so far. Please design more!
~I now also recycle all my paper and plastics. Thanks to my Houston zoo visit. Was very impressed with your plastic artwork.
~I have shared this incentive through Facebook by posting photos of the zoo's exhibit and the impact on not only sea turtles, but other sea creatures as well. When I use plastic bags, I always bring them back for recycling, and never throw them in the trash. The exhibit at Houston Zoo changed my behavior absolutely, I had no idea the impact of such a simple, daily use item on wildlife. Thank you!
~It was a great experience and if it had not been for that visit at the Zoo with my grandson, I would still be using plastic bags. Now I find that it is actually so much more efficient to use my own reusable bags, because more items fit into the bag, or maybe the store packers put more into one bag. Therefore, it is also more convenient to carry it into the house. Helping to save the environment is great. Keep up with such programs. Thanks.
~I often forgot my reusable bag but I would still carry out the items rather than asking for a plastic bag. When questioned or given that unsure look by my cashier, I often responded with "I'm plastic bag free, save a sea turtle".  At least twice I was asked what I meant and was able to have a short but great conversation about the subject.