This guest post by Eli Weiss of Woodland Park Zoo is the 2nd in a 3-part series on their Innovative Solutions Grants+ project, exploring how teens in the Seattle area can empower each other and their peers for action on climate change.
In 2016 our focus for Seattle Youth Climate Action Network has been to build on the success of our pilot year and expand our engagement model to be inclusive and relevant for teens in the Seattle area. In year one we worked primarily with teens that were already committed through volunteer and internship programs at Woodland Park Zoo, Seattle Aquarium and Pacific Science Center. For the culminating Youth Climate Action Summit, we invited teens from other youth programs to participate and had a great response. As relayed in our last post, our primary goals for the project this year are to get more teens from across the city to join the network, and develop a more widespread and more engaging Summer Transportation Challenge.
In keeping with our first goal, we have been looking to recruit teens that don't already have a connection to Seattle Youth CAN. Noting our earlier finding that our in-person events have proven to be surprisingly successful as an engagement strategy, we have been focused on the following:
Encouraging teens who are already involved to invite their peers to our events
Asking other youth programs to join the network and attend and promote our events
Tabling at local teen and climate change events that have been developed by others
We have seen mixed results with this approach, and have continued to evolve our outreach strategy as we go.
What did we do? Our teen leaders have presented at a range of youth action and climate events including; Gates Foundation's Youth Action Summit, Museum of Flight's NASA Climate Night, Seattle Art Museums Teen Night Out, and the Youth Ocean Conservation Summit at the Seattle Aquarium.
What's been working? One element that teens developed that has been effective for engagement at outreach events has been the "climate tree" activity which asks people to add one leaf that represents what they are doing to fight climate change and one for what they are concerned about. Since this was developed, over a hundred leaves have been added and thirty new teens have joined the network!
What have been the lessons learned? Youth leaders have identified a range of barriers to participation in Seattle Youth CAN from the broader youth community including the challenge of getting reaching new teens through existing communication channels and the relevance of our events for youth who are not already passionate about climate change. We are working to address these potential barriers and continue to expand our community support and opportunities for youth and partner input on our outreach and engagement efforts.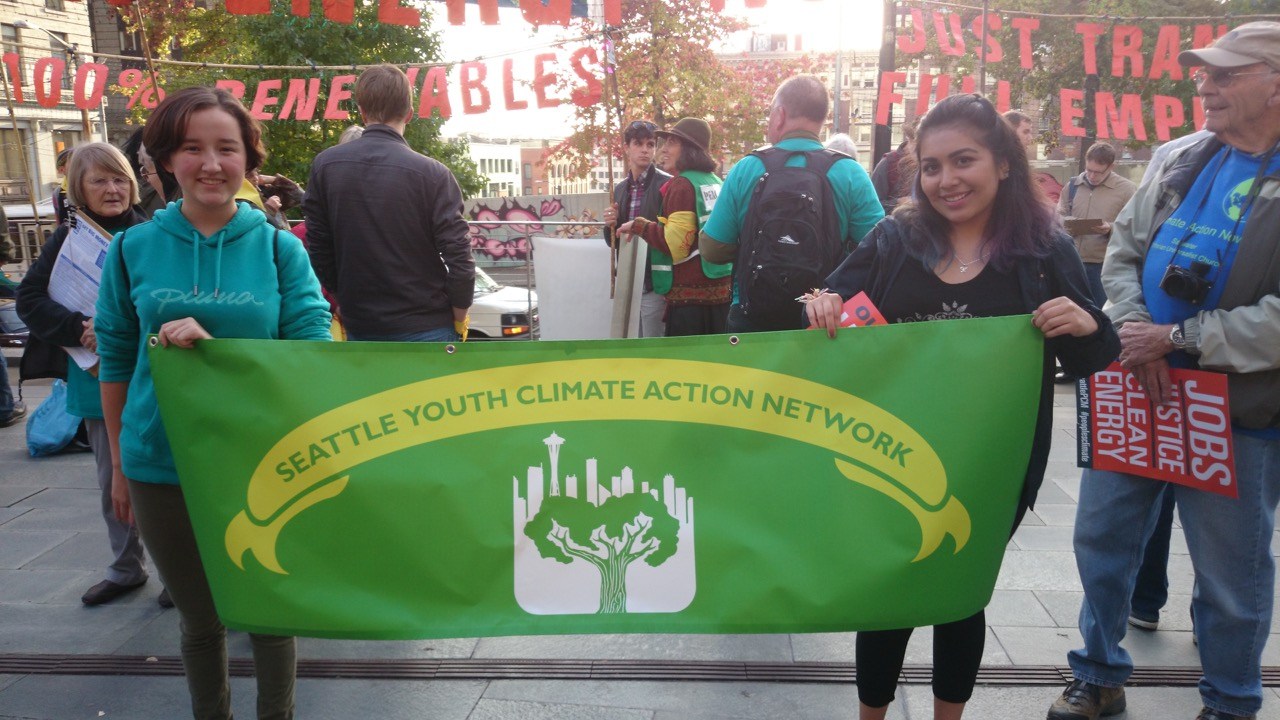 While expanding our network, we also took steps to strengthen its core. Specifically, we expanded youth leadership opportunities within the network, and in January launched the Youth Leadership Committee (YLC), a steering committee that is made up of teen representatives from each partner program. These teens meet monthly (and often more) to plan campaigns, explore new opportunities, and move broader project goals forward. In addition, each partner program has its own climate team with more youth members who in addition to the network-wide efforts are working on a on a range of institution specific projects - stay tuned! By creating new opportunities for teens to take on leadership roles, we are helping to strengthen the youth driven nature of the project and also the critical mass needed to move us forward.
Then in keeping with our second goal, developing a more widespread and more engaging Transportation Challenge, the YLC is busy gearing up for another exciting summer of transportation related action.
This year, teen leaders have modified the goals of the challenge:
Increasing participation by expanding our network of partners and reaching more teens
Engage participants in fun activities and events that help increase personal action and carbon reducing transportation choices
The group is hard at work developing a new approach for engagement which they hope will be successful in getting many more youth involved in the action. The eight-week summer challenge will have weekly themes and prizes, and in-person events and contests to build excitement for getting involved and encouraging others to participate, as well as a strong social media focus through channels including Facebook, Twitter, and Instagram.
We also have launched a new blog, www.seattleyouthcan.org which is a great place for our teens to share their stories and will be a hub for the upcoming challenge. Not to forget that earlier this year, seven of our teens worked with King County Metro Transit to develop a complementary youth-targeted campaign, which will hopefully launch county wide this summer. In addition, a local website design and social media firm, www.rorymartin.com, has offered up their support to help build a more dynamic marketing and social media strategy for the campaign and will be training a team of Seattle Youth CAN teens to lead this effort. All together, we are hoping to inspire hundreds of local youth to take action during the months of July and August.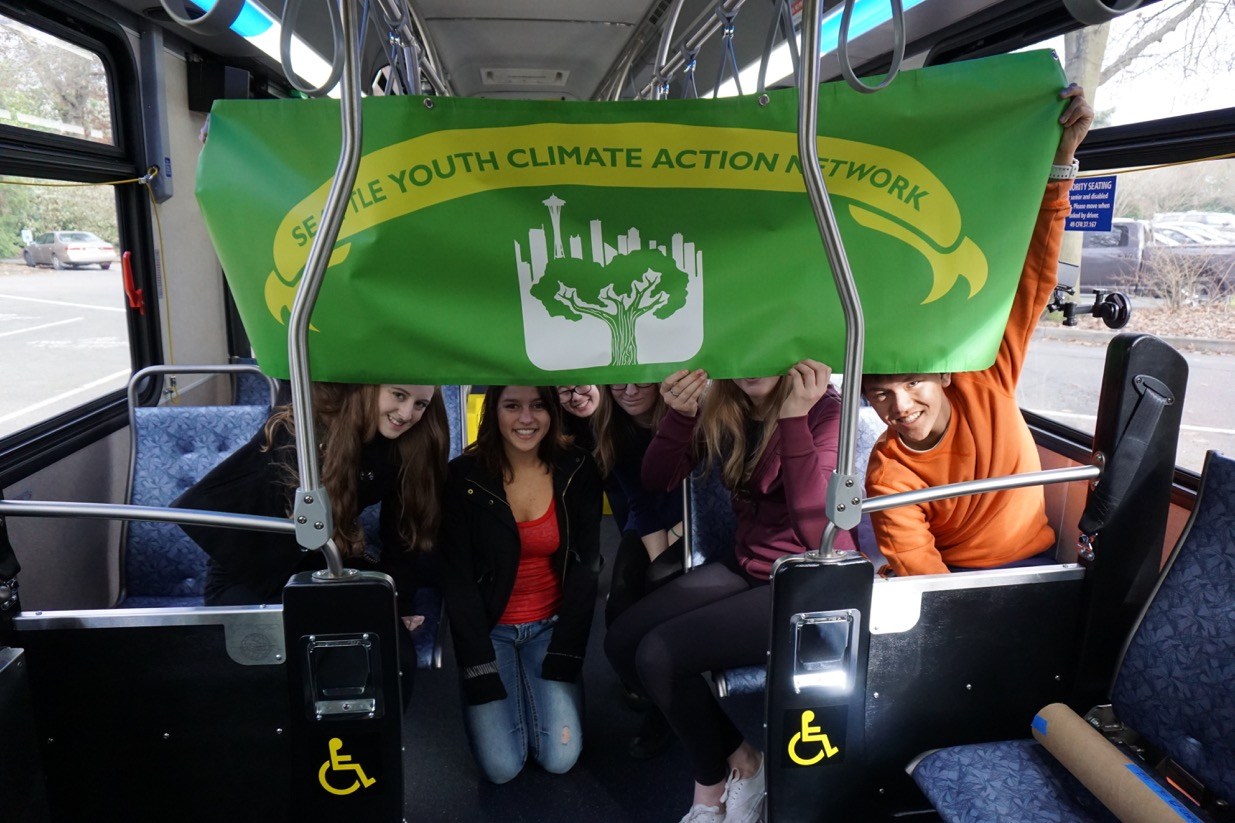 We are hopeful that with more targeting outreach and communication during the challenge and a more dynamic experience for participants, that we will successfully engage a much larger group this summer both within and beyond our core network. Stay tuned for updates on our summer of learning and climate action!