This guest post by Eli Weiss of Woodland Park Zoo is the third in a 3-part series on their Innovative Solutions Grants+ project, exploring how teens in the Seattle area can empower each other and their peers for action on climate change.
What we have to celebrate
As we wrap up our first year with reflection and planning sessions for both youth and staff stakeholders I feel grateful for all that everyone has contributed to making the pilot year for Seattle Youth CAN such a success in 2015. I am also excited we willl have even more to look forward to in 2016, thanks to a second year of funding from the Innovative Solutions Grants + Program!
With the partnership and support from youth programs staff and teens from Woodland Park Zoo, Pacific Science Center and Seattle Aquarium it has been quite a year! We have also appreciated the support from a range of community collaborators including local non-profits, agencies and universities who have contributed to our first year. As planned, it was full year of programming with monthly opportunities for Seattle area teens to increase their climate literacy, take action and become leaders in this exciting new initiative. By the numbers, in 2015 we had:
A committee of 11 teen leaders planned and launched a transportation focused climate action challenge that engaged 50+ teens during August and saved over 12,000 pounds of CO2
12 climate literacy and action events hosted at the three institutions which provided unique opportunities for more than 150 teen participants!
85 teens attended Seattle Youth Climate Action Summit held at Woodland Park Zoo
20+ local climate leaders contributed as guest speakers, presenters and project advisors
3 teen representatives  traveled to the WILD Center in upstate New York to present and participate at the Adirondack Youth Climate Summit
Over the past few months we are especially proud of…
The Transportation Challenge
The first teen led action campaign was a pilot designed by a cross institution leadership committee. The challenge focused on encouraging other teens to reduce their CO2 emissions by choosing to use public transit, carpool, bike or walk. During the month of August, there were 52 active participants who logged their commutes on an online platform hosted by King County Metro. In a post survey we found that just under half of these participants reported an increase in their use of the recommended transportation options as a result of the challenge.
After the challenge, King County Metro staff discussed the agencies sustainability efforts with the teens and also led a workshop in which they brainstormed possible social media messages to make a stronger connection between public transit and reducing CO2 as well as encouraging more teens to ride the bus. There are already plans to revise and continue this messaging campaign as part of our efforts in 2016.

The first annual Seattle Youth Climate Action Summit
On October 10th, 2015 the Woodland Park Zoo and Seattle Youth CAN hosted the first annual Youth Climate Action Summit attended by 100+ teen and community participants from the Seattle area. The event was organized by a committee of 14 teen leaders from the three institutions along with the support of staff from Woodland Park Zoo.
The summit included presentations and activities led by teen leaders, a climate careers panel, group action projects and plenary workshop sessions led by local climate leaders and scientists focused on climate science, innovation and ways to take action. This was the first Seattle Youth CAN event in which teens from outside of the founding three partner youth programs were invited to participate. The Summit was the culminating event of year one for Seattle Youth CAN and the also a shift toward a more inclusive model that we plan to expand next year, a model that will provide the opportunity for all interested youth in the Seattle area to get involved and take action!
Our amazing Youth Climate Ambassadors
Our youth ambassadors had many adventures and successes this year, including: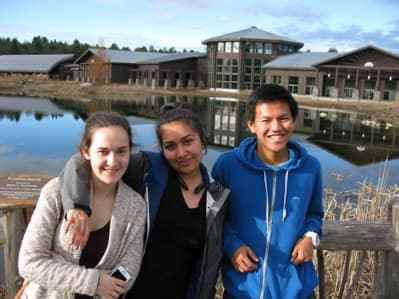 • Three Seattle Youth CAN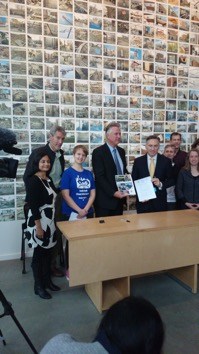 leaders traveled to the Adirondack Youth Climate Summit in upstate New York to share their experiences and learn from peers.
• Niko, a teen volunteer spoke alongside county executives and climate policy leaders at the signing of the Strategic King County (WA) Climate Action Plan.
• This past month NOAA's climate.gov site featured our project as one of their case studies of national youth climate initiatives and our video was featured at the US Center during COP21 in Paris.
What we have learned in 2015
1. Developing an authentic youth network takes time. A clear plan and willing partners is always a good start, but we found that for teens to start identifying with Seattle Youth CAN took ongoing communication and repeat participation in events. Teens live such busy lives and we don't want Seattle Youth CAN to be just one more thing for them to do, rather a place that youth can get involved, meet new people, and take on authentic leadership in something that is of interest to them. We had great success with youth organized events and campaigns and are looking to increase the youth ownership of the project in 2016.
2. When communicating with teens in-person meetings still matter. We have found that some teens prefer Facebook while others will only respond to email, and with so many options for connecting these days, there is no one way to get in touch. Our Facebook group has been a great way to share updates, photos, events and ideas, and although it was used by youth leaders, the majority of the posts were made by staff. We now have a twitter handle https://twitter.com/seattleyouthcan which is followed by some supporters, but has not been a clear way to engage teens. We actually found that by far the most successful strategy for building community and creating connections has been in person events and meetings – that was where most of the magic happened.
3. Institutional support helps. Bringing together three of the most prominent informal science institutions in the city has allowed for us to leverage the expertise, resources and connections of our founding partner organizations. All three institutions have shown past commitment to climate change education and this partnership has allowed us to come together on an area of shared relevance. In addition, the community looks to zoos, aquariums and science museums for answers and through this project we have been able to help teens find their voice as climate change leaders and change makers and this action resonates with the millions of visitors that attend our institutions each year.
Where we are headed
I think that we are on to something with Seattle Youth CAN and are excited to develop new strategies that will allow broader participation and reach. We plan to do this through creating an opportunity for new partner programs to join the network and by opening up monthly events to teens that are not already affiliated with our partner programs, as well as by revising and expanding our teen led action campaigns.
We also plan to strengthen and package our unique model so that we can share it with other regional and national groups that are looking to support youth in climate leadership initiatives. It is exciting to see the growing interest in our local initiative and I hope that through our efforts we can help the national youth climate action movement grow.
--Guest post by Eli Weiss of Woodland Park Zoo