This guest post by Director of Education, Elizabeth Clemens, and Coordinator of ZooTeens and Scout Programs, Syndi Castelluccio, of Riverbanks Zoo and Garden is their final in a 3-part series on their Innovative Solutions Grants+ project, which investigates how engaging with teens and receiving incentives can impact zoo guest behavior.
Sailing Along...
The Riverbanks Zoo and Garden's ZooTeen volunteers have been busy over the last year taking direct action and engaging our visitors in efforts to keep trash out of our ocean. You've been waiting for the results, and the results are in.
Survey Says…
We began our journey under our Innovative Solutions Grant just over a year ago wanting to accomplish two main things:
Try a different approach to engaging our ZooTeens, one that emphasizes learning by doing
Get our teens to take the lead in an "ask task," encouraging others to join them in taking action
As we reported in our last post, the teens responded really well to our new approach to engaging them, and they were eager to lead an experiment in how to engage others.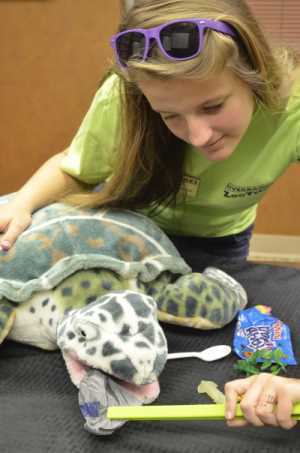 Working with the teens, we decided to compare and contrast the experiences of two sets of individuals, and see which group would be more willing to join us in taking action.
A "Control Group," which we also called our "outside the zoo experience group" as they interacted with our teens at a location other than the zoo, where they were asked to take a reusable bag, use it, and complete a survey. The engagement time for this group averaged about one minute, and was spent almost entirely on the solution step of using the bag.
An "Experimental Group" of zoo guests who while onsite engaged much more deeply on the issue with the ZooTeens, learning about the problem of marine debris, typically at an "information station," before receiving the bag and agreeing to use it and take the follow-up survey. Engagement time for this group averaged about 5 minutes, with much more information about the problem and about the same amount of information about the solution.
We all, staff and teens alike, predicted that the "Experimental Group" that engaged onsite with the teens for a longer period of time and received more information about the problem would be more likely to take the next step and respond to the survey. We also believed that this same group would be more likely to report in the survey that they were using the bag and taking additional action.
The teens made several comments throughout about their experience approaching both groups of individuals. Some teens reported that it was easier to get others to engage with them at the zoo, where they had the benefit of the information stations, props, biofacts, and activities. Yet other teens surprised us by saying that the location didn't seem to matter. One of our teens, admittedly a real go-getter, reported that no matter the situation she could get individuals to sign up by just asking. So, in sum, the teens told us that with a prop, and especially the bags to give away, it was almost as easy for them to engage others offsite as onsite.
A few weeks after distributing the bags, we began circulating the survey. We received a great response, with more than 30% of those we contacted completing the survey. This was significantly higher than the Better Bag Challenge around World Oceans Day 2015, where, in that effort, which was based on our same concept, only 7% of those contacted actually followed up and completed the survey. That now posed a new and unexpected question for us: Was it simply the energy and enthusiasm of teens being the voice of conservation that made participants reply at a higher rate?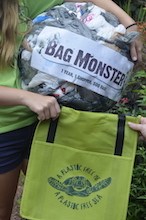 Things got even more interesting when we began to compare and contrast our control group with our experimental group, as our results didn't hold true to our original prediction!
We found that not only did both groups respond at about the same rate to the survey request, but also in about the same way in terms of their responses to the survey questions.
Having the zoo experience and receiving the extra information about the problem didn't seem to make much of a difference at all when it came to individuals following up and taking action!
Taking the results with a proverbial grain of salt, as these were self-selecting samples taking the survey, we found that members of our control and experimental groups expressed:
About the same level of concern for the future of the ocean (Control: 76% agreement / Experimental: 78% agreement)
About the same sense that zoos and aquariums are a good source for accurate information about the ways to protect and conserve wildlife (Control: 88% agreement / Experimental: 86% agreement)
About the same level of support for zoos and aquariums suggesting ways for them to help solve problems facing the ocean and its animals (Control: 88% agreement / Experimental: 91% agreement)
About the same level of agreement between the two groups that by joining zoos and aquariums in taking action the public can play an important role in addressing the problems facing our ocean and its animals (Control: 84% agreement / Experimental: 87% agreement)
Moreover, both groups reported using their bags at almost the same exact rate on our five point scale! (Control: 3.2 / Experimental: 3.4)
We also received comments from both groups that were very positive in tone, and also hit on many of the same themes:
"I've been visiting the zoo for 32+ years. I am thankful to see the zoo taking a more active role in reusable items."

"Thoroughly enjoyed our visit as well as the information provided about "Plastic Free Me" Campaign."

"Thank you for checking with me. I got the bag at Kids Day in Lexington. I use if for many reasons and very often. It's a great bag."

"I have heard great things about Riverbanks Zoo and Garden. A visit is high on my list of places to go."

"I really appreciate the awareness information given, it has made my family more aware."
Next we looked at our overall results in rough comparison to the national public opinion research by The Ocean Project, and saw some suggestion that our teens engaging people with a solution-oriented action step appeared to increase not just public concern about the ocean, but also -- and even more promising -- our public's sense that zoos and aquariums are good sources of accurate information about ways to conserve the ocean, and their feeling that by joining zoos and aquariums in taking action, they can play an important role in addressing the problems facing the ocean. Not enough to say for sure, but certainly indications are that by asking people to join us as part of the solution we are heading in the right direction!
We have learned a lot from our efforts under this grant, and in conclusion I would highlight the following "lessons learned" for our colleagues in the zoo and aquarium community:
Create a teen program that is a fully immersive "learning by doing" experience as that can inspire participants to take that experience beyond the zoo and become true "Stewards of Our Seas"
Having inspired teens makes for a more engaging and meaningful experience and their enthusiasm may just rub off on your guests
Keep messaging to the point, as sometimes our guests and others don't need all the details - they want to do what's best and we just need to encourage and ask.
One final note...
We cannot express enough the gratitude we have for being given the opportunity to test hypotheses under the Innovative Solutions Grant+ program. This experience has inspired us to keep testing our assumptions when it comes to developing best practices for public engagement at our institution.