At a time where the world is faced with herculean challenges, it is imperative that we engage the passion, idealism, and energy found within the youth of today. Among the many World Oceans Day 2018 initiatives to mobilize this valuable source of new energy is the Sea Youth Rise Up Campaign – first launched for World Oceans Day 2016 by The Ocean Project, Big Blue & You, and the Youth Ocean Conservation Summit. This annual campaign brings together a delegation of seven young, international leaders, ages 21 and below, to increase awareness of the issues facing our ocean, share their conservation work to inspire a global audience, and demonstrate to world leaders the value of engaging youth in decision-making processes.
Serving as a member of the inaugural Sea Youth Rise Up delegation in 2016 was one of the most inspiring experiences of my life, contributing greatly to my decision to devote myself fully to environmental conservation. I am as grateful for the opportunity stay connected, first as an alumni mentor and next as a coordinator. This engagement reinvigorates my hope for the future and introduces me to new bright, young environmental leaders. This year's campaign matched, and may even have exceeded, the high level of enthusiasm and energy of previous years – something that I did not know was possible.
This year, Sea Youth Rise Up returned to Washington, DC with an inspiring delegation of seven young conservation leaders. The delegates were Ruby Rorty (age 18 of California), founder of Santa Cruz Environmental Alliance; Darrea Frazier (age 16 of Maryland), award-winning environmental educator and advocate; Madison Toonder (age 17 of Florida), environmental researcher recognized by NOAA for "Taking the Pulse of the Planet"; Jacob Garland (age 15 of Massachusetts), founder of the environmental blog Working to Save; Annie Means (age 18 of California), student speaker and founder of the environmental blog Recycling on Seattle Waterfront; Kai Beattie (age 17 of New York), citizen scientist and environmental community organizer; and Vyshnavi Kosigishroff (age 18 of Delaware), ThinkOcean regional coordinator and March for Science Delaware coordinator.
As one of this year's coordinators, I spent many long hours in my college dorm arranging the logistics of the campaign. I learned what it takes to pull off any successful initiatives during the time I devoted towards helping to run the application process, planning the campaign, and coordinating the website as well as social media.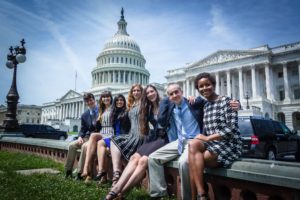 The 2018 campaign kicked off on June 8, World Oceans Day, with a morning on Capitol Hill – an inspiring meeting with the Senate Ocean Caucus to press for increased protection of marine ecosystems, legislative limitations on plastic pollution, and decrease of off-shore oil drilling in areas with fragile marine ecosystems. Then, the Sea Youth Rise Up delegates shared their ocean messages through a live broadcast streamed via Facebook and YouTube Live. This broadcast was viewed by a live, international audience of more than 1,000 people and has been viewed by more than 3,000 since. Following the broadcast, the delegates joined others in making posters for the March for the Ocean.
The Sea Youth Rise Up 2018 delegation finished World Oceans Day at a Social for the Sea, cosponsored by United Nations Environment, and hosted by Smithsonian National Museum of Natural History in their innovative Q'rius center and theater. The Social provided a spectacular opportunity to network with a variety of mentors, including top ocean leaders, scientists, and celebrities, including Philippe Cousteau, co-founder of EarthEcho International; Jim Toomey, a cartoonist best known for his syndicated comic strip Sherman's Lagoon; Nancy Knowlton, chief marine scientist at Smithsonian; Jon White, CEO of Consortium for Ocean Leadership; Joanne Flanders, with NOAA Office of Ocean Exploration and Research; Julia Schnetzer, lead scientist for the Ocean Plastics Lab; and Jendaye Antoine and Taylor Miller, two NOAA Educational Partnership Program Undergraduate Scholars.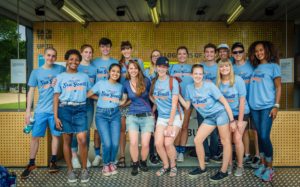 On June 9, the campaign continued with a VIP tour of the Ocean Plastics Lab on the National Mall. Then, Sea Youth Rise Up took part in the inaugural March for the Ocean. Although there was sweltering heat throughout the day, thousands of ocean lovers came out and participated – a true display of the passion for our ocean! The march was immediately followed by a rally where we had the honor of going on stage for the delegates to introduce themselves and declare their call to action. In addition to the large crowd present, more than 50,000 people have viewed the rally through Facebook Live. Although a thunderstorm caused the rally to end early, it was a spectacular opportunity to hear from other youth and adult leaders, such as Heirs to Our Oceans, a delegation of youth middle school-aged and younger dedicated to inspiring awareness, responsibility, and action,or Céline Cousteau, founder of CauseCentric Productions.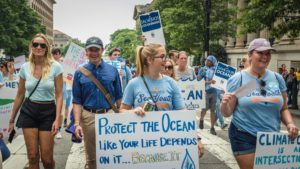 Having participated in this initiative for the past three years, it has not ceased to amaze me how quickly bonds form within the delegation. What began as a group of seven inspiring young leaders ended as a tight-knit group of friends working together towards ocean conservation. Whether collaborating on future environmental projects or simply staying connected, the shared passion for the ocean acted as a catalyst for powerful friendships to form. I for one was thrilled to see my friends Laura Johnson (Florida) and Baylee Ritter (Illinois) from the 2016 delegation and found new friends among this year's delegation. By bringing awareness to the pressing problems facing our ocean, bringing like-minded young leaders together to pursue solutions, and mobilizing an ever-growing audience, this campaign continues to demonstrate our ability and obligation as a society to address human impact on the environment. The optimism cultivated by the Sea Youth Rise Up delegates has inspired many to rise up for the ocean, and I am excited about what future years will bring.
Anyone interested in being a part of this amazing team, as a member of the 2019 Sea Youth Rise Up Delegation, stay tuned for an announcement on next year's program details.