Guest Blog by Al George, Director of Conservation, South Carolina Aquarium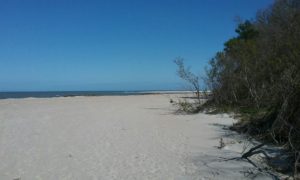 [Note from Editor: With it being World Oceans Day week, with the focus on plastic pollution prevention and encouraging solutions for a healthy ocean, this guest blog by Al George at the South Carolina Aquarium seemed rather apropos.]
The story of the rise of plastics in our lives is astonishing: This material, which was essentially unknown to our grandparents, is now perceived as indispensable. It has infiltrated every aspect of our lives and nearly every ecosystem on earth, including oceanic trenches and even the Arctic and Antarctic regions. Plastics' inert composition and ability to last (and last, and last) may eventually make it the best geological indicator of the Anthropocene epoch. Unfortunately, the very characteristics that make plastic fantastic also render it ecologically problematic. Plastic, once leaked or littered into the environment, is one of the most pressing conservation concerns of our time, with potentially devastating impacts on human health and safety, local economies, and local ecosystems.
With our waterways front of mind, the South Carolina Aquarium partnered with 5 Gyres and Lonely Whale last March to host Breaking Down Plastic, a public conference dedicated to accelerating our shared understanding of the hazards associated with plastic pollution, as well as to provide individuals with the information and tools necessary to advance relevant solutions within their own communities. The South Carolina Aquarium's participation within the Aquarium Conservation Partnership, a coalition of 22 leading AZA accredited aquariums working together on priority conservation issues, facilitated the conference's reach to extend globally. Hugely successful, Breaking Down Plastic converged more than 900 community leaders, scientists, teachers, students, and entrepreneurs to showcase and explore innovative solutions to the plastic pollution challenge.
Collaborations forged by Breaking Down Plastic have blossomed to strengthen local communities. For example, the 2017 Strawless Summer campaign initiated by the Charleston chapter of the Surfrider Foundation brought together nearly 100 restaurants, bars, and City of Charleston venues with the challenge to "stop sucking." Impressive strides have also been made by partners such as Mason Preparatory School, Charleston Waterkeeper, The Outside Foundation, Coastal Expeditions, North Myrtle Beach Sea Turtle Patrol, and Keep Dorchester County Beautiful, among many others.
Excitingly, the South Carolina Aquarium's partnerships with the Charleston County Public Library (CCPL), Charleston Friends of the Library, National Marine Sanctuary Foundation, and NOAA Marine Debris Program (MDP) resulted in CCPL ending their use and annual distribution of more than 20,000 single-use plastic bags and paper bags at all 16 branch locations. This timely action was the result of a mission-based initiative that began on World Oceans Day last June (for more on that please see blog post). Our organizations joined forces to distribute more than 4,700 free reusable tote bags. Library supporters were thrilled with CCPL's inclusive approach to embracing the culture of reusability and to achieving a measurable reduction in plastic bags entering the local waste stream. This model has already been replicated in Horry County: Thanks to the leadership of local citizens, the Horry County Library system chose to say goodbye to plastic bags as of January 1, 2018.
Locally, everyday citizens are making a sizeable impact. Since Breaking Down Plastic, more than 230 citizen scientists of all ages have removed and logged more than 138,000 pieces of litter using the South Carolina Aquarium Citizen Science mobile app. Data contributed to the Litter-free Digital Journal is freely accessible by all and has been shared with communities statewide in an effort to identify local issues and seek solutions. This crowdsourced data has informed nine single-use plastic bag ban policy discussions in the past year alone, including considerations by Folly Beach, Beaufort County, Mount Pleasant and even at the state level.