Conservation is the action of protecting and rejuvenating ecosystems so that the plants and animals within them can thrive indefinitely. If those inhabitants could accomplish this on their own, our jobs would be much easier; however, animals are merely the ambassadors for many of the issues that require our intervention (unless you're a plastic-eating Ideonella sakaiensis), and it often takes multi-national teams of biologists, environmentalists, and volunteers to enact change.
However, zoos and aquariums have a unique resource that can have an immense impact on the welfare of the flora and fauna of the world, one which most organizations can't begin to replicate.
The guest.
According to the Association of Zoos and Aquariums, more than 195 million people visited American zoos and aquariums in 2016, roughly the entire population of the United Kingdom and Japan combined. 50 million of those guests (population of South Korea) were impressionable children visiting with their families, and 12 million (entire population of New York and Chicago) were students attending a field trip.
According to that same report, while AZA-accredited institutions care for more than 800,000 animals representing 6,000 species and 1,000 threatened or endangered species, their work outside their walls is equally remarkable. AZA institutions spent $216 million in support of conservation projects in 2016, supporting 115 reintroduction programs. More than 40 of those programs were for species listed as threatened or endangered.
So how can zoos and aquariums mobilize what amounts to the entire populations of Japan and the United Kingdom to participate in their conservation efforts, and to take action on their own beyond the destinations' walls?
Via their conservation messaging.
However powerful, emotional, honest, and urgent these institutions' messages are, it's difficult to know what impact they're having on their guests. Are guests being moved to volunteer, conserve water or energy, recycle or compost, campaign, or donate money? Most importantly – do they even trust the message, or the message-bringer, to begin with?
If a toucan starts to molt unexpectedly, zoo staff begin to analyze its environment to understand the source of its stress, and then correct it. If a panda won't mate, a koala won't sleep, a snake won't eat, or fish attack one another, trained experts watch with keen eyes, record data, and study the animals within their care to uncover the source of the problem, solve it, and share the lessons-learned with their colleagues.
So PGAV Destinations treats attraction guests.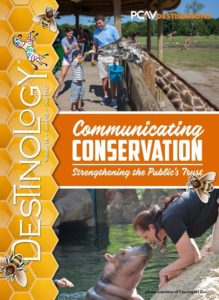 For decades, destination consulting and design firm PGAV Destinations has commissioned studies to uncover the behaviors and sentiments of the world's attraction patrons. We then freely share these findings in our quarterly publication, Destinology, and annual report, The Voice of the Visitor: Annual Outlook on the Attractions Industry. In our recent study, Communicating Conservation: Strengthening the Public's Trust, PGAV enlisted the help of H2R Market Research to uncover how attraction guests in the U.S. view the conservation messaging at zoos and aquariums, and the resulting actions they're motivated to take.
We can't eat up all the ocean plastic on our own; but by listening to our guests, we may learn just how to impassion them to join us.
Frame of Reference
Before we can approach zoo and aquarium guests with our conservation messaging, we much first understand where they're coming from – where they currently are emotionally and intellectually as it relates to conservation. To enlist help, Generation Z – or those born since 1995 – may be an excellent place to start. According to Generation Z: A New Generation's View on Zoos & Aquariums, 72% and 70% of respondents felt aquariums and zoos, respectively, were the best places to learn about animals and wildlife. This grossly outperformed School and The Outdoors, at 35% and 24% respectively. 82% of respondents noted that they were interested or very interested in learning about animals and wildlife. When asked for a bit of word-association, more than 80% of Gen. Z connected these four statements with zoos and aquariums:
"Bring people and animals together, and this education motivates people to protect animals."
"Provide fun and entertaining ways to learn about animals."
"Are best when they make the effort to replicate the animals' natural habitats."
"Rescue ill or injured animals and nurse them back to health."
Nearly three-fourths (74%) of our Communicating Conservation respondents expect zoos and aquariums to take actions to support wildlife conservation. For guests who say conservation initiatives at an attraction improve their perception of that attraction, those guests are far more likely to visit those attractions, as opposed to attractions who aren't pursuing such initiatives.
76% of survey takers noted that they'd taken at least one action in the last two years that supported conservation, with a visit to a zoo or aquarium as the most popular (55%) followed by donating money to a conservation cause (29%). Comparatively, these respondents were unlikely to volunteer their free time towards actively participating in conservation efforts. Concurrently, 77% said they will likely, and 32% will definitely, support a conservation effort within the next year, with 84% noting it will most likely be a visit to a zoo or aquarium, followed by 67% donating funds and 60% saying they'll be an advocate for habitat preservation. Our study showed that many visitors believe that their visit to a zoo or aquarium is directly contributing to the conservation efforts of the institution, most-commonly through the cost of admission. When we asked respondents what has the greatest influence on their decision to support, or not support, wildlife conservation, they responded in order:
Having financial resources to donate;
A transparent understanding of exactly where their donation would go;
An intention that their donation would go towards helping animals.
Whom to Help?
Our respondents felt that the top priority for zoos (80%) and aquariums (78%) should be caring for their animals, followed by educating the public about conservation issues (62% and 64%), and providing expert training for keepers, staff, and conservationists (60% and 53%). Further study revealed that the public is quite sensitive to the healthy-design of these habitats, but also feels that these attractions need to be fun – not just education and conservation institutions.
For both zoos and aquariums, respondents felt that mammals were in most need of protection and support from wildlife conservation efforts. In zoos, these respondents felt that arthropods and amphibians were in least-need of protection; and in aquariums, amphibians and bony fish, such as sea horses and clownfish, needed the same, low-level of protection. This finding confirmed an ongoing understanding that visitors are often most concerned about the furry and "cute" animals in human care, but may not be aware – or comprehend – the grave situations facing other taxa.
What Connects with the Public?
Zoos and aquariums maintain an impressive and diversified portfolio of wildlife and conservation activities. However, its essential to understand about which ones the public cares.
Those actions which the public least expects zoos and aquariums to conduct are those which seemingly have the least, direct impact on the animals. Only 43% expect these institutions to invest in green building practices, and less than a third (30%) expect them to compost organic materials. Once again, the focus is on the animals.
When given a variety of conservation activities in which to participate while visiting a zoo or aquarium, 59% of our respondents said they'd like to build an enrichment item for an animal; 58% said they'd like to build a butterfly house to take home; and 53% were interested in signing up for a beach clean-up. Most importantly, an impressive 82% of survey takers said that their perception of a zoo or aquarium would be greatly or somewhat improved if that destination offered at least one of those programs. Respondents commonly noted that these activities encourage learning and participation, as well as demonstrating the institutions' desire to help wildlife.
After hands-on activities, we gave respondents a wide selection of larger activities a zoo or aquarium might conduct, and asked them which ones would somewhat or greatly improve their perception of that institution. Three-fourths of respondents said that the key activity would be building a major attraction for the purpose of advancing animal conservation, followed by an outreach education program which brought animals to schools (71%) and experiencing a half or full-day shadow of a Keeper for a Day program. There existed a high correlation between implementing these initiatives and respondents' intention to visit and support these attractions. This also indicates that outreach, like television programs, may be a popular outlet through which to cultivate new destination visitors.
We also asked guests who was the most trustworthy spokesperson at a zoo or aquarium. 31% felt it was the director, 25% said it was a keeper, and 21% said it was a researcher in the field. Members, board members, and volunteers scored far lower; so while we often think authentic messaging comes from our base, the public is viewing CEOs as the best source of honest information.
In the last section of our study, we asked respondents to consider which opportunities under a variety of categories would have the greatest positive impact on their perception of their zoo or aquarium. Across the board, guests selected options that got them closer to animals and helped them better understand the care they receive. While we recommend enjoying the full report for the detailed list and data, a few key highlights include:
In regards to External Communications, outreach programs with live animals were the most impactful.
In regards to Mammal Interactions, participating in zoo/aquarium-led tours into natural habitats to observe animals scored strongest.
In regards to Major Attractions, participating in a behind-the-scenes tour of veterinary facilities most-impacted positive perception.
In regards to Interpretives, observing keepers conducting a wellness check-up on an animal was most favored.
Where Do We Go from Here?
Zoos and aquariums have a captive audience of millions of people with whom they have the opportunity to connect and bolster their conservation efforts. Taking the time to carefully understand visitors' frame of reference, their expectations, and what connects with them on an emotional level can help these attraction managers and keepers craft exceptionally-impactful experiences and messages that can recruit guests to their efforts. The next generation is primed and interested in conservation efforts, while Boomers, Generation X, and Millennials have the means to make a change. All we have to do is Reduce the noise, Reuse effective messaging, and Recycle impactful experiences.
About PGAV Destinations
PGAV Destinations is a global leader in the planning and design of unique destinations. Now entering its sixth decade, the practice has evolved to become the ideal destination-consulting partner, skilled at developing growth-oriented master plans and translating those plans into successful projects. No other firm offers such an integrated approach to destination planning.
PGAV Destinations' key clients include industry leaders such as Delaware North Companies, SeaWorld Parks and Entertainment, the Biltmore Companies, Bass Pro Shops, Ameristar Casinos, Universal Studios, The Gettysburg Foundation, the Saint Louis Zoo, and many others. Recent assignments include planning and design at many of the world's "must see" destinations, including the Grand Canyon, Biltmore Estate, Space Shuttle Atlantis, Chimelong Ocean Kingdom, the Georgia Aquarium, the Hoover Dam, and SeaWorld Adventure Parks. http://pgavdestinations.com/our-work/zoos-and-aquariums/