SEA LIFE Aquariums and SEA LIFE Trust wanted to know if visitors shared our interest in expanding our nation's network of Marine Protected Areas (MPAs).
With this in mind, we initiated in partnership with The Ocean Project a pilot project at two of our sites, Carlsbad and Orlando. We developed an exit survey with a program called iSurvey that allows for offline collection on iPads, and then site staff randomly sampled our guests about their opinions of marine protected areas, as well as their feedback on our being involved in this effort.  Guests responded well to the iPads, and we were able to collect a sample large enough to have a high degree of confidence in the results. We looked at the overall results, as well as the results for a subset of guests who participated in a voting activity (I'll explain in more detail below), and another subset of guests who received additional interpretation.
The overall response on the exit survey was overwhelmingly positive, with yet more evidence for the earlier research findings that visitors to aquariums and zoos truly do expect, trust and appreciate information about how they can help the ocean and its animals.
If anyone is still asking whether or not we as aquariums and zoos "inspire" the public's interest in addressing environmental issues, look no further than the following chart, which shows that while on site a full two-thirds indicated that they believed their actions could have a great deal of impact on environmental problems.  Moreover, we had more than 98%, yes, more than 98% of our guests agreed with the statements that "SEA LIFE Aquariums are a good source of information about ocean conservation" and "Learning how to help conserve the ocean and its animals makes for a better visit to a SEA LIFE Aquarium."  In sum, we have access to the public when they are inspired to act, and they're telling us that they trust our guidance and appreciate learning how to help – so let's be bold!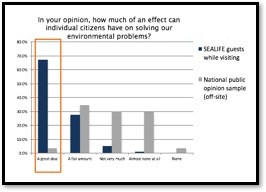 On the particular issue of MPAs, our guests were just as positive, with again strong agreement both for the idea of expanding our nation's network of protected areas and for the involvement of our aquariums in that effort.  So if picking an issue on which to be bold, MPAs certainly seem like a good choice!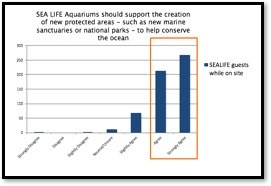 And notably this was not a hypothetical question. During his presidency, President Obama already has shown a willingness to support marine protection by significantly expanding the Pacific Remote Islands Marine National Monument in 2014 and then announcing two completely new marine sanctuaries in October 2015 .   At the same time, the National Oceanic and Atmospheric Administration (NOAA) has been soliciting nominations for new protected areas.  This is why at Sea Life we've come to see now as the right time to invite the public into this issue, document their interest, and bring it back to our policy leaders.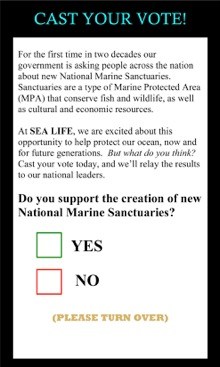 In an interesting twist to our pilot we also aimed to test the impact of an activity, and the impact of interpretation on guest response.   A subset of guests at both sites participated in a simple voting activity, where they were handed a paper ballot, which gave basic background on the sanctuary nomination process and asked if they supported the idea, yes or no.  The voting activity was low cost and easy to implement, and guests liked it. And they certainly liked the idea of expanding the sanctuary system, with a full 94% voting in favor, and based on a related question, primarily out of concern for the animals.  Meanwhile, a separate subset of guests at our Carlsbad site received interpretation, talking with one of our educators about MPAs. The interpretation was more resource intensive, taking up a lot of staff time, but again guests liked the interactions.  But did either experience impact their response on the exit survey?  We didn't have as much confidence in these findings due to the relatively small sample sizes, but indications were that even though the baseline of 'visit alone' was quite high, the response from those who participated in the voting activity or received interpretation was even higher.  Moreover, the voting exercise had the benefit of documenting public interest in the issue in a way that could be easily relayed.
What's next?  Based on the promising results of the pilot, and some timely advice from policy experts, we're revising the approach to focus on a revamped version of the voting activity. Our goal is now to invite as many guests as possible to tell us which of four areas currently under they'd like to see protected as #blueparks.  And we'll also be reaching out online with a presence at http://bluebackyard.org, where, in fact, you should go now to cast your vote!
~This guest post was submitted by Chris Andrews from Sea Life