By Amy Niedbalski
Director, Conservation Audience Research and Evaluation (CARE)
Saint Louis Zoo
Like many organizations, the Saint Louis Zoo hosts approximately 20 to 30 "awareness days" annually (albeit, virtually in 2020). Some of these include, International Vulture Awareness Day, Pollinator Awareness Week, International Tiger Day, World Tomistoma Day, and of course, World Oceans Day! On these days, even more than normal, the Saint Louis Zoo comes alive! An awareness day often is communicated via social media before and during the day of the event, signs are placed at Zoo entrances, activity stations are placed around the Zoo (often limited to the habitat area of the specific animal whose day it may be), and staff and volunteers with the Education Department and Animal Division are out and available to chat with Zoo guests.
Knowing the intense planning and resources devoted to implementing these days, it was important for the Saint Louis Zoo to conduct an evaluation to have an understanding of the impact on Zoo guests. Throughout 2017 and 2018, Conservation Audience Research and Evaluation (CARE) staff worked with the Zoo's Conservation Education Liaisons to develop an appropriate instrument to measure knowledge gain, attitudinal change and behavioral intent, and to collect data at 17 events. Over a two-year period, nearly 400 guests who had an observed experience at an awareness day and were intercepted, completed evaluations. Surprisingly, a quarter of these guests came to the Zoo specifically because of the animal awareness day that was occurring!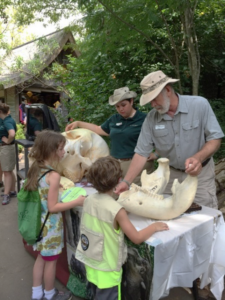 CARE staff utilized several of the agreement scale items from Luebke and Matiasek's 2013 publication in Zoo Biology, An exploratory study of zoo visitors' exhibit experiences and reactions, as indicators of attitudinal change. These items include: (1) I believe that this <species> is well cared for in the Zoo, (2) This interaction with Zoo staff/volunteers made wildlife conservation issues more meaningful to me, and (3) I have a greater connection with <species> as a result of this interaction with Zoo staff/volunteers.  Overall, approximately 90 percent agreed with the attitudinal ratings, and the "strongly agreed" rating for "this interaction with…conservation issues more meaningful to me" was statistically significantly different (z=3.9171, p<.00008) between those respondents who attended an awareness day (67%) compared to Zoo visitors who talked with an educator or animal care staff member on grounds during a "regular" Zoo day (55%).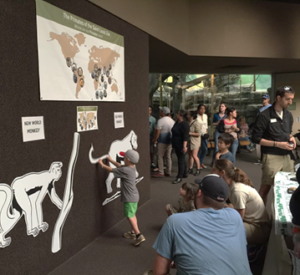 In an open-ended format, guests also were asked: "What is one thing you learned you could do to help this species in the wild?" While many answers were very specific to a particular species (use sustainable palm oil) and other responses were quite generic (recycle), the most frequently mentioned individual action was to use reusable bags when shopping, or to take the #byetobags pledge. Interestingly enough, the Zoo's teen volunteers' #byetobags program, a single-use plastic bag reduction campaign, was initially funded by the Innovative Solutions Grant+ program at The Ocean Project! Two-thirds of respondents were able to name something they learned they could do to help, compared to 57% of general Zoo visitors, who answered the same question on our annual exit study, again with a statistically significant difference (z=7.5894, p<.00001).
As part of the Education Department, the Saint Louis Zoo is fortunate to have a team of four full-time Conservation Education Liaisons, who collaborate with assigned departments to develop and deliver appropriate programming and messaging to meet the goals of all of the Zoo. These individuals, along with their many other duties, have the knowledge, experience and capacity to support planning for these events, which are primarily initially driven by interested Animal Division staff. Overall, the evaluation has also allowed us to ascertain which awareness days were not generating much change in the various areas of potential impact, and allow staff to adjust to make changes in following years.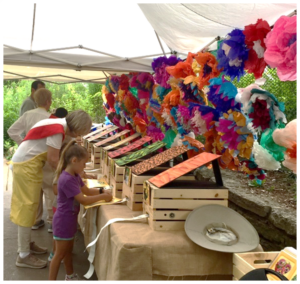 The Saint Louis Zoo hopes that having this knowledge of positive impact will help inspire other organizations to dedicate time and resources to these efforts, once operations are back normal, that is! Wait…will operations ever be "normal" again? In the wake of the COVID-19 pandemic, institutions have an unprecedented messaging opportunity, especially at events such as animal awareness days. As nearly every guest will have some knowledge of and personal experience with COVID-19, Zoo staff can use this as a starting point for conversation to convey the inextricable link between the health of humans and the health of animals and our shared environment, and most importantly, what guests can do to protect animals and their habitats, as well as themselves and their families.
Please let me know if you have any questions about our evaluation (niedbalski@stlzoo.org). If you have questions about animal awareness day events at the Saint Louis Zoo, contact Lisa Lidgus, Conservation Education Liaison (lidgus@stlzoo.org).