Growing up on the coast of Florida, I had the chance to connect to unique marine environments and their inhabitants at an early age. Experiences with my family exploring Florida's water resources, and learning more about these habitats through summer camps and education programs prompted my first interest in the wonder of the ocean. As I got older, my interest in marine science grew into an interest in ocean conservation – working with my friends and family to take action to protect the priceless marine resources of my home state. Through these early experiences I learned the importance of the ocean, how it connects people from all backgrounds on a global scale, and how it plays a key role in the existence of life on earth.
At a young age I also learned the ocean is in trouble. From plastic pollution and climate change, to overfishing and habitat destruction, this priceless natural resource is threatened by the actions we take on a daily basis. Now through my work directing the Youth Ocean Conservation Summit, and work with aquariums and conservation organizations on a global scale, I've seen the urgent need for action to address these challenges now. I've also seen the importance of engaging young people as leaders in the ocean conservation field, building on their passion, new ideas, and energy to build a movement to protect our blue planet.
The Sea Youth Rise Up campaign, launched in the spring of 2016 as a collaborative effort between The Ocean Project, World Oceans Day network, the Big Blue & You and the Youth Ocean Conservation Summit, is designed as a platform for young people to rise up for our ocean, share the important work of young conservation leaders, and inspire a global audience of young people to understand the important leadership role they play in protecting the ocean. Utilizing World Oceans Day as a rallying point, the campaign brought together seven young ocean conservationists from the United States, Canada, and the Bahamas: Ben May, Laura Johnson, Dazja Dorsey, Baylee Ritter, Simeon Bethel, Lindsy Myers, and Gabriella Schauber, for three days in New York City and Washington D.C. – allowing these incredible students to share their message of the importance of protecting our ocean with world leaders and their peers.
Selected through a global video contest, as well as nominations from our Sea Youth Rise Up partner organizations, our 2016 Sea Youth Rise Up delegates arrived in New York City on June 7, 2016 and prepared for an exciting lineup of events and activities to celebrate World Oceans Day 2016. During our time in New York, Sea Youth Rise Up co-creator, Danni Washington and I joined our delegates for a Live World Oceans Day Google Hangout on Air, hosted from the New York Aquarium, where delegates had the opportunity to share their ocean conservation work and interests, the importance of youth leadership in the field of ocean conservation, and advice for other young people interested in ocean conservation who watched the broadcast from around the world in the United States, New Zealand, India, Curacao, Pakistan, Germany, Somalia, Greece, the Bahamas and Canada. A #SeaYouthRiseUp social media and Thunderclap campaign further highlighted the importance of youth leadership in ocean conservation to a global audience. Delegates also had the exciting opportunity to meet with ocean conservationist and singer/songwriter Jack Johnson, and attend the United Nations World Oceans Day reception.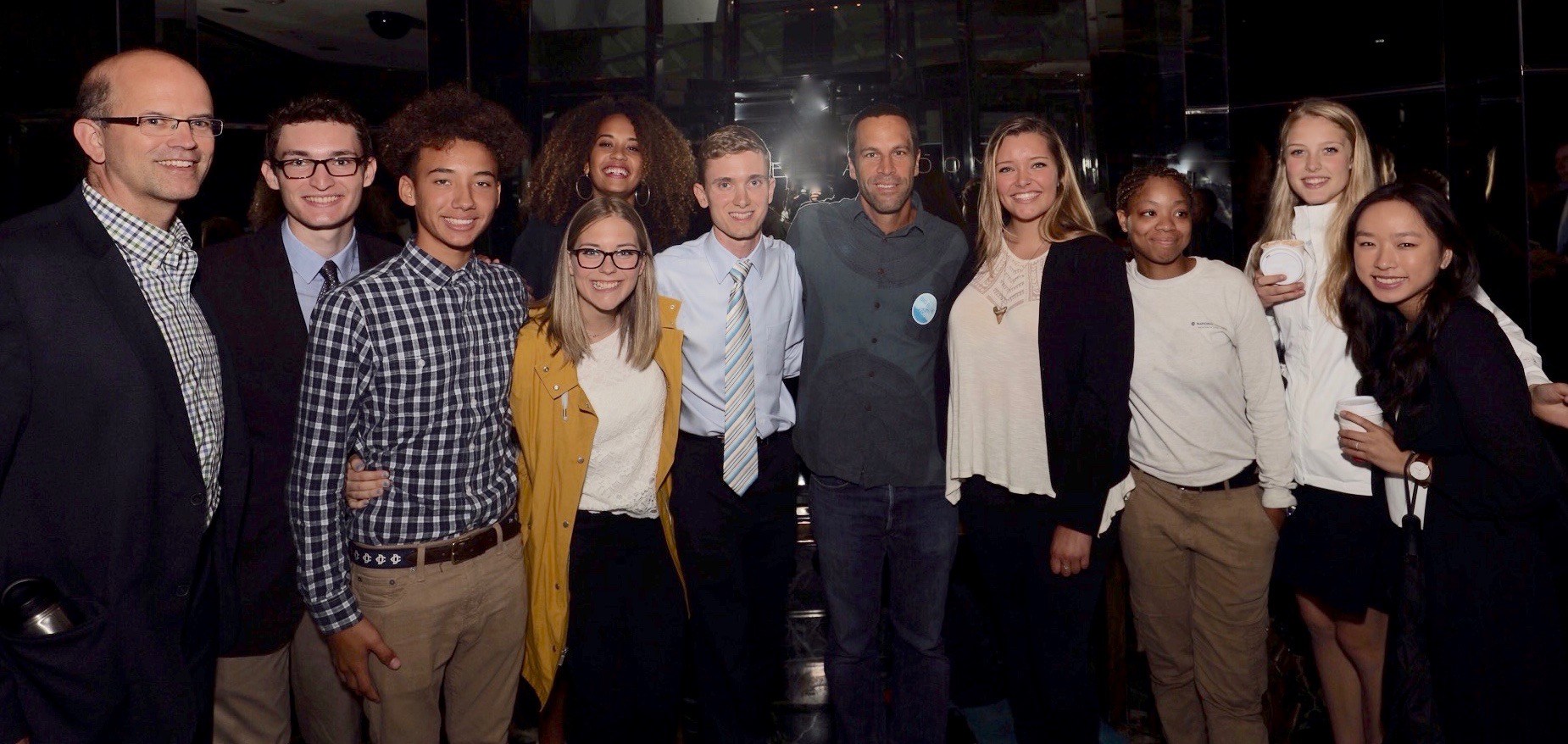 After a whirlwind tour through New York City, our Sea Youth Rise Up team headed out early on June 9 for our nation's Capital where they participated in a White House Roundtable with members of the White House Council on Environmental Quality. Through this unique experience, delegates had a chance to share their support for the creation of additional marine protected areas, and discuss the administration's ocean conservation priorities. Our D.C. adventures continued with a stop at the Newseum for Capitol Hill Oceans Week, where our team members took part in a live broadcast with the National Marine Sanctuary Foundation, and visits with staff members from Youth Service America and EarthEcho International during a wrap up picnic on national mall.
We are incredibly proud and inspired by the young people who stepped up and raised their voices for the protection of our ocean through this special event. We're also excited to continue to share their stories through the upcoming Sea Youth Rise Up short film, tracing their ocean conservation journeys and Sea Youth Rise Up experience, further calling on a global movement of young people to rise up and take on the challenges facing our planet's marine ecosystems.
A special thanks to the partners and sponsors who made this program possible – The Ocean Project, World Oceans Day network, Big Blue & You, Youth Ocean Conservation Summit, NOAA, the National Marine Sanctuary Foundation, the Coastal Ecosystem Learning Center network, jetBlue, the Wildlife Conservation Society's New York Aquarium, Youth Service America, and EarthEcho International. We are incredibly grateful for your support and belief in the power of young people to positively impact our planet.
If you'd like to learn more about Sea Youth Rise Up, and the inspiring work of our 2016 delegates, be sure to check out www.seayouthriseup.com or connect with us on Facebook, Twitter, or Instagram.
Sean Russell is the co-creator of Sea Youth Rise Up. He is the founder and director of the Youth Ocean Conservation Summit, and works with SeaWorld, Mote Marine Laboratory, and conservation organizations on a global scale on youth leadership initiatives. You can follow him on twitter at @seandrussell.