In part 1 of our blog series on past Small Grants projects at zoos and aquariums, Meg Lieth, Children's Play and Zoo Teen Coordinator at Brevard Zoo , shares lessons for staff and teens learned from Brevard Zoo's youth-led environmental summit. Click here to see their tips.

On Saturday July 20, 2013, the Zoo Teen volunteer program at the Brevard Zoo hosted the second Youth Environmental Summit to educate and encourage youth ages 12 to 18 to work to conserve the environment. Over 100 participants attended and had the opportunity to meet other youth, participate in a choice of hands-on workshops and share ideas.
Workshops included video production, mangrove restoration, oyster reef conservation, recycled art, FrogWatch, water conservation, conservation photography and presentations by young people sharing their work.  Participating organizations included Keep Brevard Beautiful, Environmentally Endangered Lands Program, Stone Fire Art Studios, the City of Melbourne Environmental Programs, Blue Life Florida, Eastern Florida State College Environmental Club, Brevard County Solid Waste Management, Sea Turtle Preservation Society as well as staff from the Brevard Zoo who work in the conservation department.
The enthusiasm of the "Zoo Teen Conservation Team" was one of the most successful elements of this event. These youth showed pride in what they developed, demonstrated greatly improved knowledge of conservation programs in our area, and recruited several new members to the group.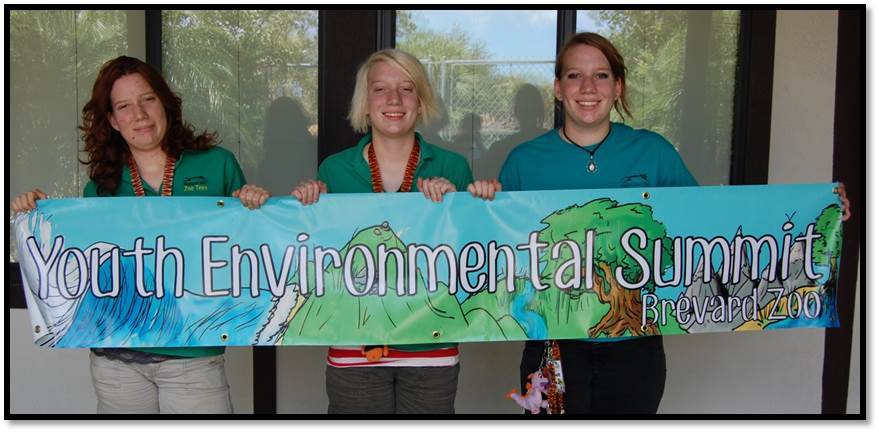 This dedicated team plans to make the Summit an annual event and is already making plans for 2014. Contributions by individual members or small groups included:
Designing the event logo and banner
Creating a flier
Drafting a press release
Creating presentations for the event
Working with staff in the marketing department to develop a marketing strategy
Passing out fliers at area movie theatres
Selecting giveaways and food
Designing a schedule and event program
Creating and compiling survey results
Sending out thank you letters
With the goal of inspiring youth to take action, the Brevard Zoo Teens hope other organizations will consider hosting a similar event.  Please check out the full list of tips and examples. Here are a few lessons learned:

Lessons Learned from our Staff
Provide examples, but allow room for creativity– Planning an event is a lot of work.  Collect examples and break down jobs into manageable chunks.  If possible, attend other youth events and discuss what worked and what they might do differently.   Encourage creativity and allow individuals to use their strengths.
Identify projects youth can actively participate in– Projects and issues that youth can get directly involved with will be most appealing.  Youth want to take action; they just need to know what they can do.  Have teens brainstorm projects that they find most interesting.
Make any budget work– You can make a difference even with a small budget by using volunteers, asking for donations and identifying partner organizations to donate their time.  We found that charging participants a small amount to attend ensured that they would show up and be interested.  In our first year we started small; grants and sponsorships allow you to expand and add to the event.

Lessons Learned from our Teens
Add variety– Have a lot of activities and allow participants to choose what interests them most.  Leave time for fun and social time- some of the best ideas come from collaboration with peers!  Everyone seemed to enjoy the event more when we let them choose the workshops that interested them.
Get the word out– If you are holding your event when school is out think of local places to spread the word (like movie theaters).  Make and distribute brochures and fliers.  Use online sources to market the event.
Use giveaways that match your message– People really liked the bags with our logo on them.  To quote one young man: "You NEED bags." Think about what things are made of and use products with a smaller environmental impact.  Examples include reusable pencils, pens and bags.  Offer food and drinks with minimal or environmentally friendly packaging.
– Meg Lieth, Children's Play and Zoo Teen Coordinator at Brevard Zoo