In part 2 of our blog series on past Small Grants projects at zoos and aquariums, Quinn White of Aquarium of the Bay shares what they've learned about making climate change personal, and asking visitors to take action.

Background and summary of project
Aquarium of the Bay strives to improve the future of San Francisco Bay and its watershed by engaging a new generation of stewards and advancing real solutions for a healthier habitat. We reach a broad audience of residents as well as visitors from all over the world. Our goal was to help these guests commit to addressing climate change on a personal level.
Updates on project
Thanks to support from The Ocean Project, the Aquarium successfully trained our staff to frame climate change in a way that helps guests understand climate change and its impact on their own lives. Previous experiences frame how people see the world, so two people can look at a prop or an animal and understand it in two completely different ways.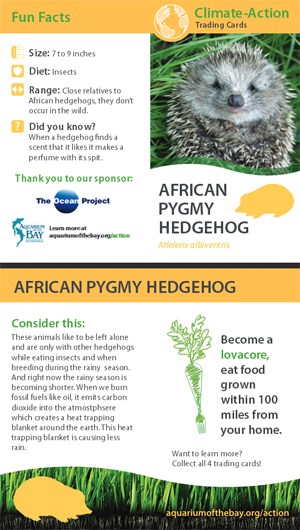 By connecting guests' personal experiences to the topic at hand, we can expand their frame of reference to help them understand the problem of climate change—and its solutions.
In addition to our improved messaging, we added an environmental action dimension to visitors' experiences. Our Climate Change Action cards reinforce messages about taking local action, so Aquarium visitors understand specific ways they can personally make a difference in their own backyard. These tools have been combined to update all five of our climate change-focused daily visitor presentations.
Our animal ambassadors and their associated call to action have successfully turned a moment of inspiration into an opportunity for visitors to make lifelong changes that lessen their environmental impact. We took our message online as well—you can find our climate action cards on our website. The online component was inspired by The Ocean Project's recent research on the importance of online education. Our website now shares these printable cards as well as stories that highlight what our staff is doing to reduce their own carbon footprints.
 Lessons Learned
The responses we've received regarding the updated visitor presentations from staff and guests have been very positive. Staff report that it is easier to talk to guests with a more hopeful message and it is easier to have a conversation when connecting to their universal values. The stay time for guests has also increased; in the past, guests would listen for a few minutes and then leave; now they stick around for the entire presentation. Guests are also more engaged and asking more questions, and the presentations have turned into productive conversations, sparking curiosity and inspiring further action.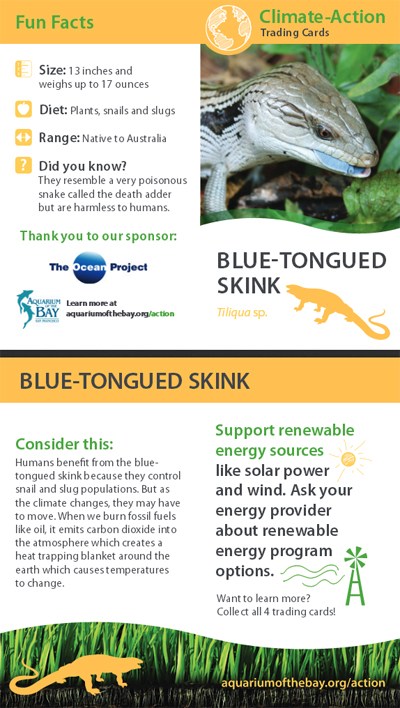 After learning about framing and universal messaging, one staff member said "Frankly, I'm blown away." He mentioned that he had heard about universal framing but had never realized its effectiveness until the training. Staff have noticed that children especially are more excited when they participate in the visitor presentations. For example, in our ocean acidification presentation, children are excited to learn more about ocean chemistry and why it's important to keep the ocean's water healthy. Also, in our solar and wind power presentations where we focus on innovation for alternative energy, visitors leave inspired and children want to learn more so that when they grow up they can help innovate other forms of energy.
In regards to putting their training into practice, staff often responded by simply saying, "It really works!" The training also resonated with staff by identifying ways to front load key messages. In other words, putting the conservation message at the beginning of the presentation grabs the audience's attention and helps them be more invested in the issue.
- Quinn White, Development Manager and Grant Writer at Aquarium of the Bay