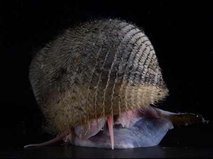 Yoshihiro Fujiwara/JAMSTEC
A hydrothermal vent snail, a newly discovered species, is now part of a plethora of sea creatures cataloged in the Census of Marine Life
While
World Oceans Day
2010 focused on "Oceans of Life", the theme of the great diversity of life continues throughout this International Year of Biodiversity, as designated by the United Nations. The
Census of Marine Life
recently made a major contribution when it culminated its decade-long international effort to assess the diversity, distribution, and abundance of ocean life.The Census validated that there are 201,206 identified species in the ocean and likely more than one million different types of creatures living in the seas today. This first baseline picture of ocean life—past, present, and future—will be used to forecast, measure, and understand changes in the global marine environment, as well as to inform the management and conservation of the marine environment.
The massive undertaking, which was comprised of 2,700 scientists, more than 80 nations, and 540 expeditions, shed light not only on how many sea creatures exist, but also on how much diversity our ocean is truly composed of. From well known ocean creatures like the jellyfish to newly discovered creatures like the hydrothermal vent snail, the Census enabled scientists — and now the public — to further understand the connections between aquatic life, the ocean, and us!
Read the full Census press release or visit the Census of Marine Life website to access its image and video gallery, reports, and much more.